Owning a hot tub is the dream for many. It's the perfect relaxation space after a long work week and a great way to hang out and entertain with friends and family.
However, they do cost a lot of money to purchase. It's a massive decision before you even scope out the location you want to place it. Prior to spending that money, what are the hot tub pros and cons?
There are pros and cons of owning a hot tub but generally, most owners will agree that the benefits of a hot tub by far outweigh the disadvantages. The pros include relaxation, socializing and year-round use. The cons include the cost and upkeep.
Hot tubs are a fantastic therapeutic and de-stressing tool. There is no working around that. But there are a few potential cons that may crop up that you should consider before buying.

Benefits of using a hot tub
What are the benefits of a hot tub? To make your choice, these can be just as key in decision making as the downsides.
Relaxation
Heath benefits
Socializing
Usability
It is the ultimate relaxation tool
There is nothing better than soaking away a rough day or week in a hot tub. Letting the bubbles carry away your troubles as you unwind is one of the top ways people love to get rid of stress and float their cares away.
On top of that, there are a number of health benefits you can experience from having your own personal hot tub.
Health benefits of a hot tub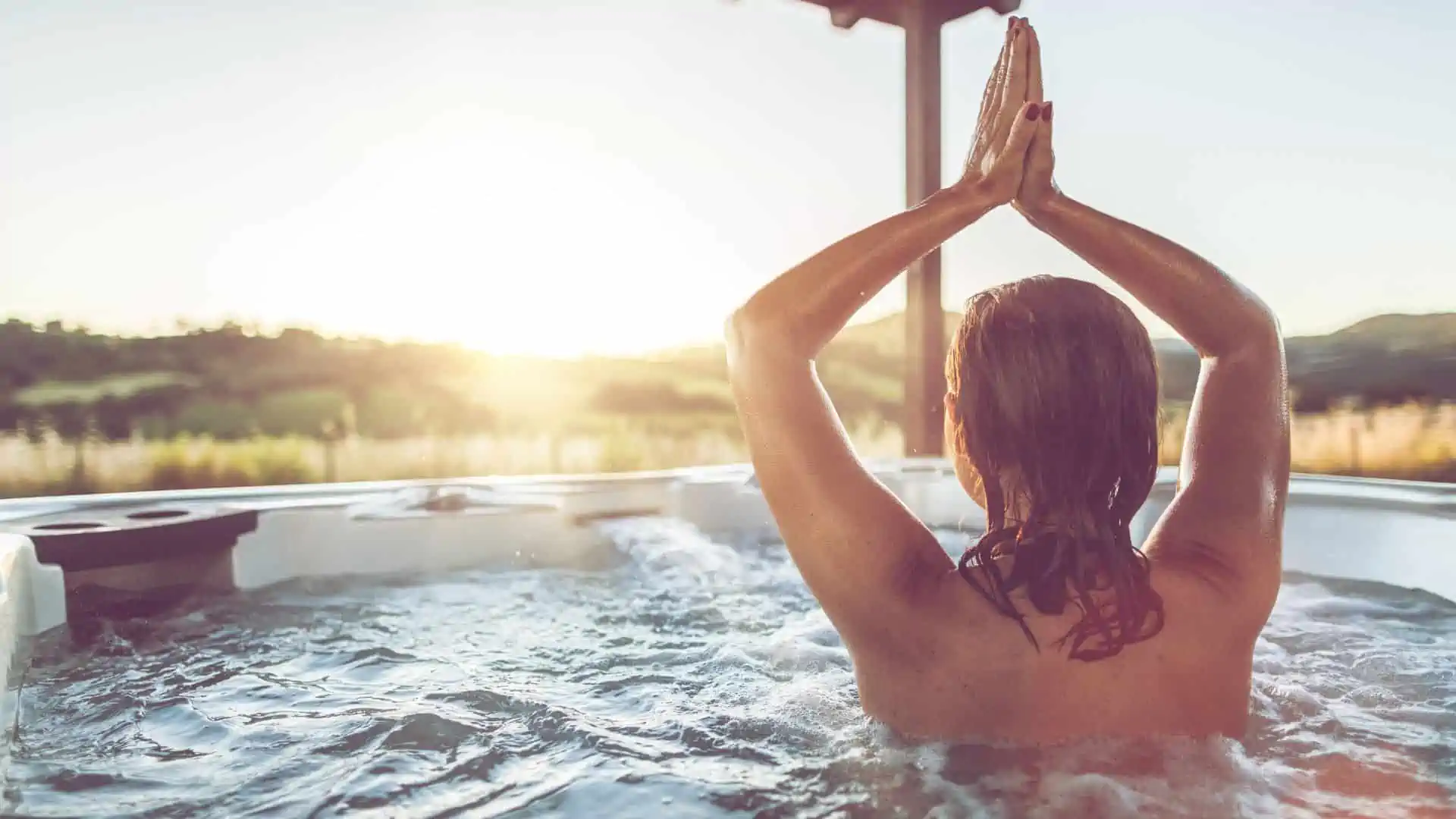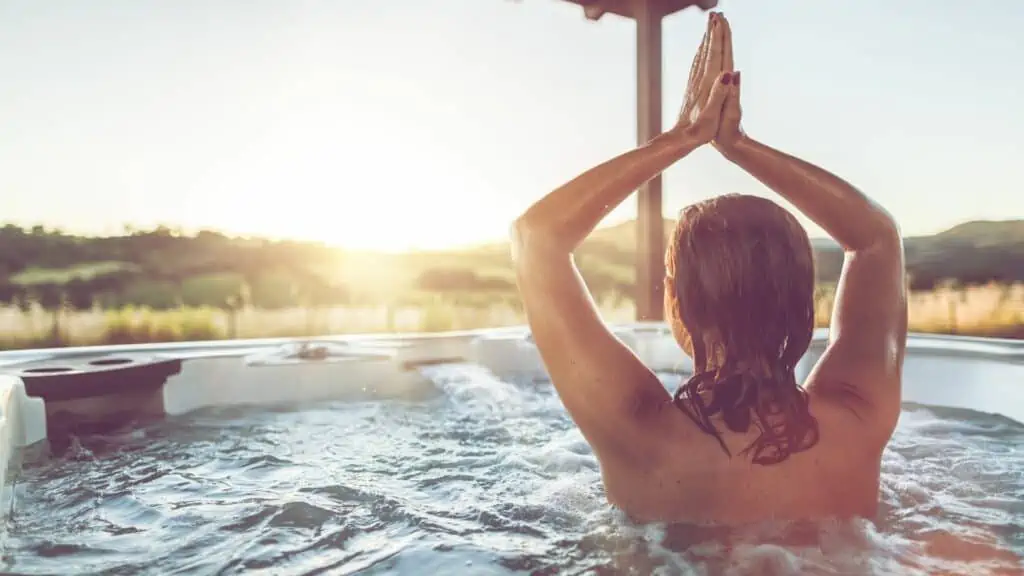 As well as the mental benefits of de-stressing you, there are some very positive health benefits from using a hot tub with scientific data to back it up.
Sitting in a hot tub increases blood flow which, in itself, can help a body heal more quickly. These include:
Relieving sore and aching muscles
Soaking in a hot tub is great for soothing sore muscles and tight muscles after a long run or some other form of strenuous exercise
Recovery from sports or other injuries
I badly broke my arm and elbow some years ago which initially left me with much-reduced movement in the joint. I carried out the exercises given to me by my physiotherapist in the hot tub, with all of the power of the jets playing on my arm. My surgeon admitted that I regained much more movement than he expected which I put down to the use of the hot tub.
Benefits to cognitive function
This article in the National Library of Medicine suggests that heat therapy can even help sufferers of Alzheimer's disease.
Help with sleep problems
Using a hot tub before going to be can help the body relax and therefore make sleep come more easily.
Hot tubs are sociable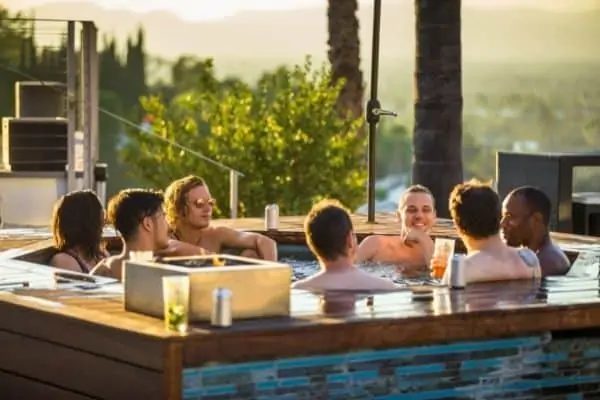 Most people love a hot tub. So it is no surprise that socializing in one is also popular.
They are a fantastic entertainment tool when hosting a get-together. The best part is they are perfect for any occasion. From a holiday to a neighborhood grill, anyone and everyone will grab their suits (or not) and be happy to jump in.
I remember having a hot tub party for the police shift I worked with. It was great fun, with 9 people in a 6-person hot tub at one stage. It needed cleaning the next day though as there were chicken bones and all sorts in it at the end.
Hot tubs can be used year-round
Unlike swimming pools, hot tubs stay at the optimum temperature year-round so they allow you to use them no matter what time of year it is, or what the weather is like.
There is nothing keeping you from taking a soak during the winter. In fact, I actually use my hot tub much more during the winter months than I do the rest of the year.
Actually I use one as part of my morning routine. I get out of bed, make myself a coffee and then lie in my hot tub to drink it. A great way to wake up.
Get the stress relief you need any time you want it.
Disadvantages of hot tubs
However, there are a few key potential hot tub cons that are important to consider before you make your choice. For me, they are mostly small in comparison to the benefits.
Initial cost
The upkeep
Electricity costs
Health concerns
High up front cost
The initial investment can be quite high. As well as the purchase price of the hot tub you also need to factor in the cost of installation. This will include the wiring which will need the services of a qualified electrician.
As a full hot tub is quite heavy you may also incur costs in possibly adjusting the site it will sit on.
The upkeep can be a chore
The thought of maintaining a hot tub can be daunting. But in reality, once you get to grips with it, then it is not very hard and takes little time each week. You will find articles on this site to help you or I can recommend purchasing Swim University's Hot tub handbook and video course.
Since the amount of water in a hot tub is relatively small then the costs of chemicals to keep the water in good order are also low.
Higher electric bills
Of course you will use more electricity if you have a hot tub but most are quite energy-efficient these days.
They have good insulation and more efficient heaters than they once did. This, together with a good hot tub cover means that the heat loss, once it is up to the required temperature, is quite low. Even though you keep the hot tub on all of the time, energy use will not be particularly high.
Potential health concerns
Using a hot tub is not suitable for everyone, particularly those with particular health problems.
These include:
Heart problems
As lying in a hot tub increases blood flow it may not be suitable for some suffering from certain types of heart problems. To some it may be a benefit – talk to your doctor.
Pregnant
Not a health problem of course but pregnant women using a hot tub, particularly for extended periods of time, could be detrimental with an increased risk of miscarriage according to the American Journal of Epidemiology.
Diarrhea
If you are suffering from diarrhea then you shouldn't use a hot tub, mainly because you could infect others
Urinary Tract Infection
If you have a UTI you shouldn't use a hot tub as not only is there a chance of spreading it to someone else but it could also make it worse for you.
If in doubt, speak to your doctor before using a hot tub.
In spite of all the benefits that come from a hot tub for your health, there are also a lot of concerns you may want to be aware of.
For one, if not properly treated and regularly cleaned, a hot tub can become a happy place for many bacteria. This can lead to infections and skin concerns if the bacteria can get in through an open cut or orifice. However, a well-maintained hot tub is normally very safe.
There is a risk of heat exposure if you stay in for too long if the hot tub temperature is high. The goal of a hot tub is to relax your muscles, but the same heat, for a prolonged period of time, can possibly cause lightheadedness, discomfort, and even dizziness.
Always check the temperature before going in and set yourself time limits.
Hot Tub Maintenance Course
I bought Swim University's Hot Tub Maintenance Course a while after I bought my first hot tub and was struggling with maintaining it. It was money very well spent and it has paid for itself many times over the years as I have saved by not needing to use as many chemicals as I did previously.
EXCLUSIVE OFFER to visitors of this site
Use the discount code EASY10 at checkout to save 10% on this Swim University course.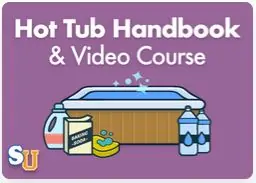 So, are hot tubs worth it?
In the end, having a hot tub is a great experience that can provide the owners with ultimate relaxation and entertainment for years. While they may require work to upkeep and install, for the most part, the benefits undoubtedly outweigh the negatives.
Ask any hot tub owner, and you won't find many hot tub owners who will say they wouldn't trade theirs for the world.
A big concern of people when first considering getting a hot tub is whether they will use it all that much.
Recent surveys indicate that most hot tub owners actually use their system more than they initially thought they would. Once they made the investment, the ability to go outside and just unwind was easy enough to accomplish.
Before you make any big purchase, of course, weigh the pros and cons. You have to make the best choice for your home and your needs overall.
If you find that the health and relaxation benefits are worth more than the potential downsides, there are a number of different systems for you to choose from!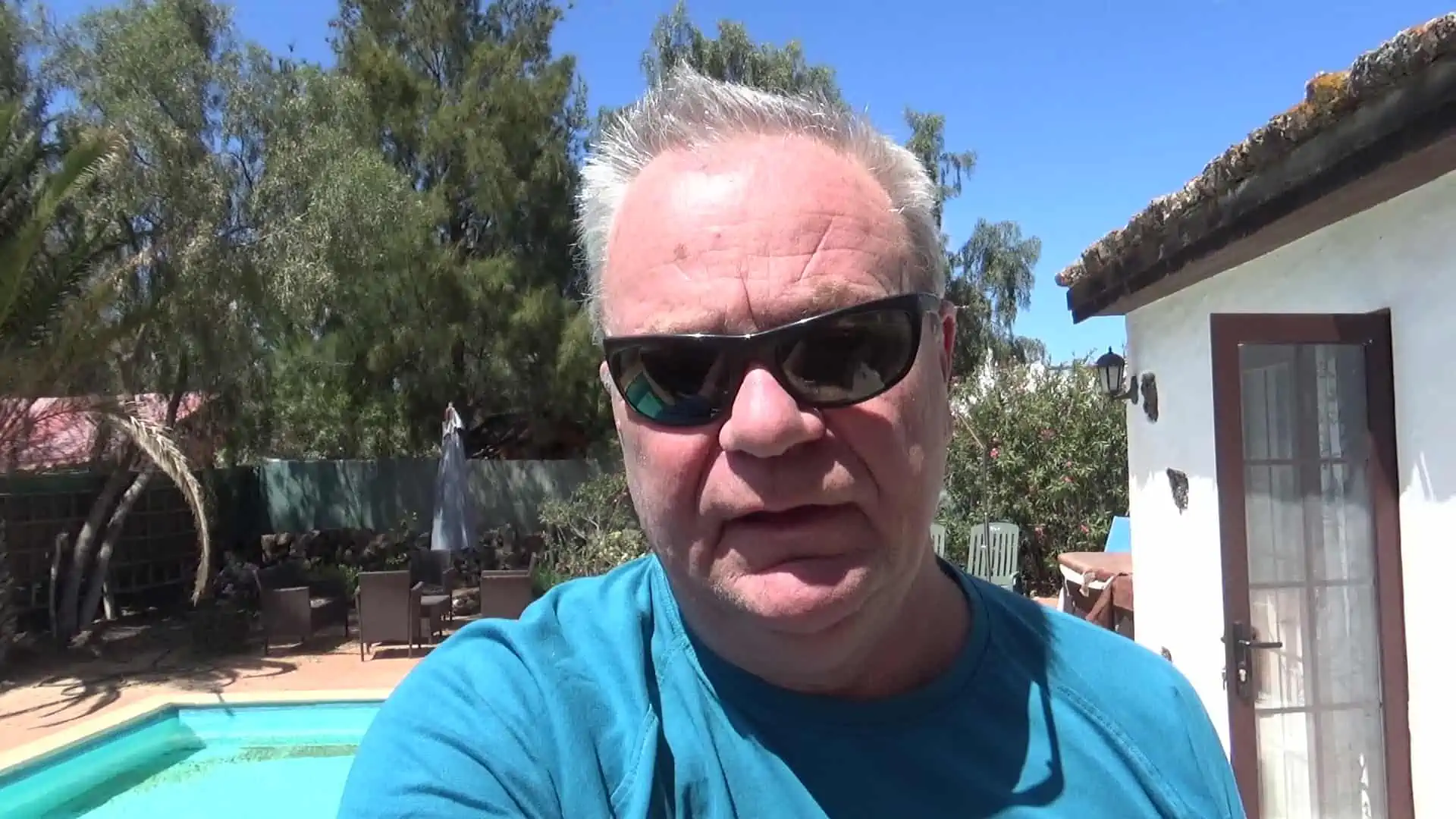 I have had hot tubs for over 20 years and a pool for the last 9 years. I had to learn how to clean, maintain and fix them the hard way. Since then I have helped many friends and neighbors with their pools and now I want to share everything I have learned with you. About Me