A hot tub is a place where you can relax, unwind, and temporarily escape from the stress of everyday life. To further enhance your experience, there are numerous hot tub accessories available that can improve your soak, add an extra layer of comfort, and even provide some fun or therapeutic benefits.
Popular hot tub accessories range from functional items such as covers and filters to luxurious add-ons like pillows, steps, and LED lights. Investing in these accessories not only makes your hot tub more enjoyable, but it can also prolong the life of your spa and make maintenance easier.
When choosing the right hot tub accessories for your needs, it's essential to consider factors such as material, size, compatibility, and ease of use. These aspects will ensure that the accessories you select will be a valuable addition to your hot tub experience and stand the test of time.
In this guide, we'll explore some popular accessories for a hot tub that can help you fully immerse yourself in the world of relaxation and entertainment in your very own backyard oasis.
With a variety of options to choose from, you're sure to find the perfect accessories tailored to your preferences. Stay tuned as we delve into our top recommendations that can elevate your hot tub experience to a whole new level.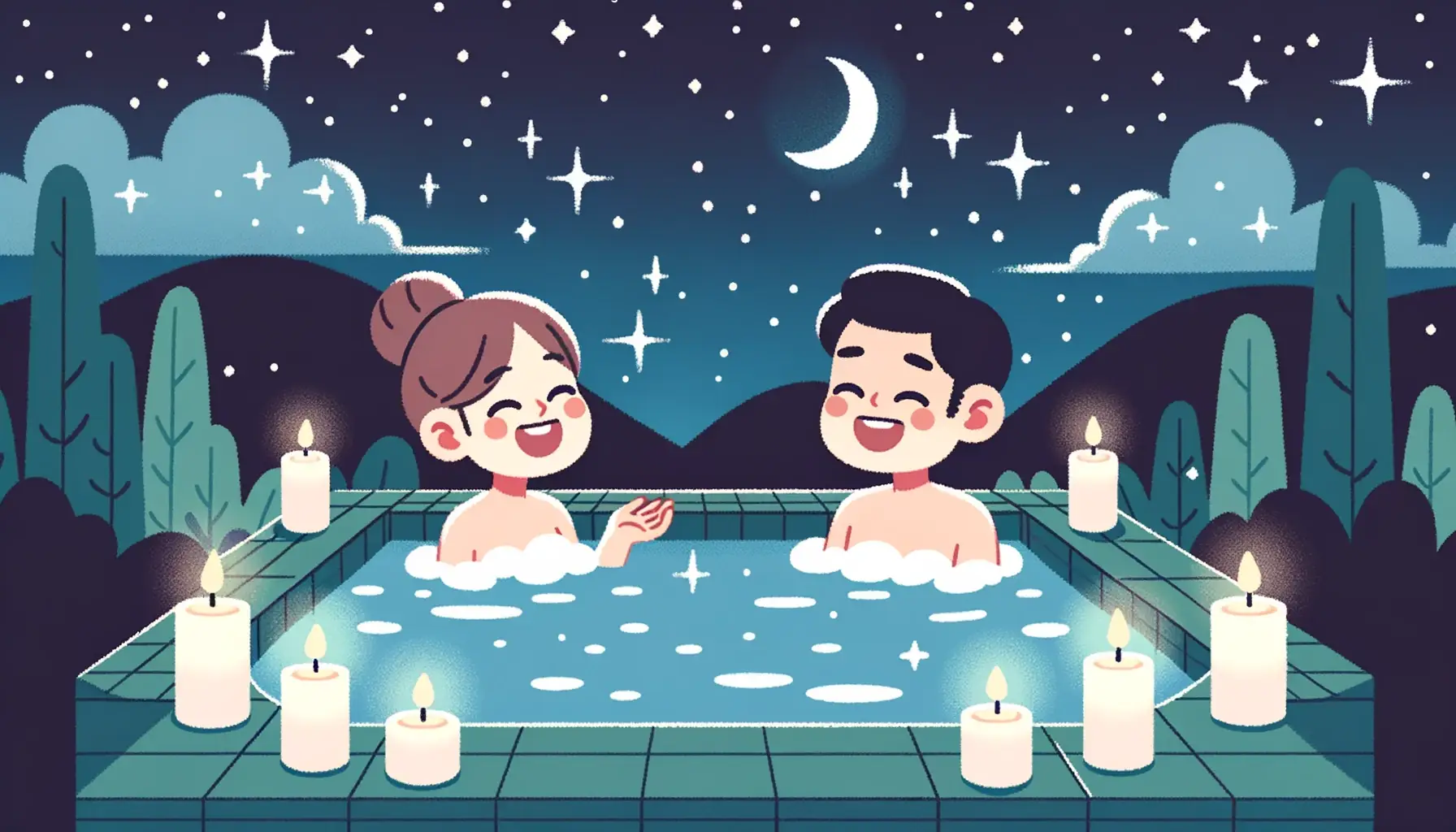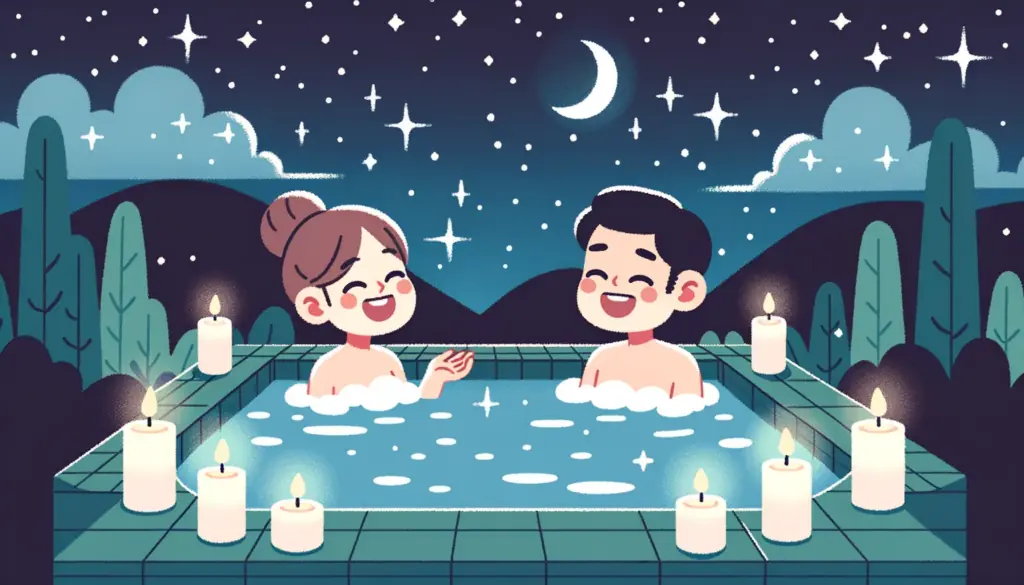 Popular Hot Tub Accessories to Enhance Your Experience
To enhance your hot tub experience, we have curated a list of the top hot tub accessories available on Amazon. In the following section, you will find a variety of products designed to improve your relaxation and enjoyment.
Make your hot tub experience even more enjoyable with LanPool's Floating Pool Light Ball. These IP68 waterproof, dustproof, and comfortable to touch orbs can float effortlessly in your hot tub, providing vibrant colors and a soothing ambiance. They're also perfect for kids who love to swim underwater, making them a versatile gift for children of all ages.
The product offers three light modes, including steady colors, color shifting, and memory mode, so you can choose the one that suits your mood or event. Furthermore, these floating lights can serve multiple functions – you can use them as night lights, bath toys for kids, or even as magical orbs for role-playing games.
However, it's essential to note that the batteries for these floating pool light balls are not replaceable. The product is designed for extended use, with each light having a life expectancy of up to 180 hours. The orbs also lack remote control functionality, so you'll need to turn them on and off manually.
---
The KingSom Portable Bluetooth Pool Speaker is perfect for enhancing your hot tub experience with immersive dynamic sound and an exciting LED light display. This waterproof speaker is safe to use around water and even fully submerged without damaging the audio quality. Floating atop the water's surface, it creates a charming ambiance when combined with the colorful light display.
With IP68 waterproofing, you can confidently use this speaker in your hot tub, at the pool, or even while taking a shower. The advanced Bluetooth 5.0 technology offers a stable signal transmission with an 85-feet wireless connection range, ensuring that you never lose connection.
In addition to its visual appeal, the KingSom Portable Bluetooth Pool Speaker delivers crisp and clear sound, even at high volumes. Thanks to its A2DP technology and built-in 6W speaker, you can enjoy hi-fi sound with deep bass and crisp treble, similar to a live concert performance.
---
The POOL BLASTER Catfish offers cordless, hassle-free cleaning for your hot tub, spa, or swimming pool. Its rechargeable lithium-ion battery ensures you don't have to worry about tangled cords or hoses while trying to keep your pool clean.
This pool vacuum offers versatile cleaning options with its removable 7.5″ vacuum head for general cleaning and a nose cone head for hard-to-reach areas. It also comes with an all-purpose filter bag for capturing leaves and large debris, as well as a microfilter bag to capture sand, silt, and other fine particles. However, some users have found it necessary to use a piece of cloth or an additional filter for better efficiency.
One potential downside is that it doesn't come with a telescopic pole, meaning you may need to purchase one separately, find one that fits or get in the hot tub to use it on the bottom.
---
The Lonffery Towel Rack is an excellent addition to your bathroom or outdoor pool area with its 180-degree rotating rods. These four rotating poles make it convenient for you to dry towels in different layers, keeping them away from moisture and easily accessible. This not only makes drying towels faster but also promotes a healthier environment.
Installation of this towel rack is simple, as it comes with plastic expansion tubes, screws, and decorative caps. In addition, the towel rod joint has a mute damping design that prevents wear and ensures noiseless use. Moreover, the thickened double hooks provide strong load-bearing capacity, making it suitable for various storage needs.
Crafted with high-quality aviation aluminum, the Lonffery Towel Rack is built to withstand moisture, preventing rust and ensuring durability.
---
The Heat Wave Universal Slip-Resistant Spa & Hot Tub Outdoor Steps are a great addition to your spa area, offering both functionality and aesthetic appeal. The dual-purpose steps have a hidden storage compartment, perfect for keeping spa accessories neatly tucked away and out of sight. However, it should be noted that the storage compartment is not lockable, so avoid storing hazardous materials within children's or pets' reach.
These steps ensure safety with their slip-resistant treads, allowing you to confidently enter and exit your hot tub. The high-density polyethylene construction can hold up to 300 pounds, giving you peace of mind that the steps are sturdy and secure.
Made from maintenance-free polyethylene, these Heat Wave steps are built to last without rusting or corroding. This means you can enjoy years of stress-free use while adding an attractive and practical addition to your hot tub area.
---
The Intex PureSpa Cup Holder is a great addition to your hot tub experience, offering a convenient space to hold your refreshments while you relax. It's designed to securely attach to the walls of your spa and, when not in use, can be removed for easy storage. This cup holder is the perfect accessory, elevating your overall experience and allowing you to focus on relaxation.
Constructed with chemical-resistant plastic, this Intex cup holder is durable and able to withstand the elements associated with hot tub use. It can hold two standard-sized beverage containers, as well as accommodate other items in the larger open space. Keep your favorite drinks and snacks close while you unwind.
---
The DIVEBLAST Premium Floating Drink Holder is a fantastic accessory for anyone who enjoys spending time in their pool or hot tub and wants their drinks and snacks nearby. This innovative inflatable drink holder is designed to keep everything you need within arm's reach to make your swimming or hot tub experience even more enjoyable and relaxing.
One of the best features of this floating drink holder is its versatility in accommodating different sizes of drinks and snacks. Whether you have large water bottles or smaller cups, they will fit securely in the drink holder, ensuring you don't have to worry about spilling your beverages while floating in the water.
---
The VEVOR Pool Safety Handrail is designed to enhance your hot tub experience by providing an additional layer of safety when entering or exiting the spa. The handrail's unique triangle bracket and large base make it capable of supporting up to 600 lbs, ensuring you can rely on it for support. It's constructed with heavy-duty iron and features a baked-on powder finish, providing resistance against rust and corrosion.
With its 360° swivel feature and adjustable height, the handrail can be tailored to suit your specific spa size and setup. This means it can be a versatile addition to your hot tub experience, offering support in the locations you need it most. In addition, the 8″ rubber grip and frosted design of this accessory reduce the risk of slipping when your hands are wet, adding an additional measure of safety.
---
The Boao Oil Absorbing Sponge is designed to provide an effective solution for maintaining the cleanliness of your hot tub, swimming pool, or spa. It comes in a pack of 16 turtle-shaped sponges, so you'll have a sufficient quantity to satisfy your daily life needs. These sponges have a strong grease adsorption capability, which makes them perfect for cleaning your hot tub and reducing the workload on your filters.
Despite their simple appearance, these oil-absorbing sponges can collect scum, slime, grime, and oils right out of the water. This not only saves the life of your filters but also helps clean the scum that forms in hot tubs and pools. To use these sponges, simply place them in the water and let them do their work. When saturated, gently squeeze out the oil, rinse, and reuse.