A swimming pool is a fantastic amenity to have at home, offering relaxation, enjoyment, and fun for the entire family. However, maintaining optimal pool temperatures using electric or gas heaters can be costly and energy-consuming, which is where solar heating solutions come into play.
Solar heating systems for pools utilize solar collectors, either in the form of panels or modular designs, to absorb sunlight and transfer the heat to the pool water.
Heating pool water with solar panels is not only environmentally friendly but also helps extend the swimming season without increasing your energy bills.
They do this by harnessing the sun's energy to heat your pool, making them eco-friendly and cost-effective. Choosing the best solar pool heater solution for your pool can directly impact your swimming experience and energy savings.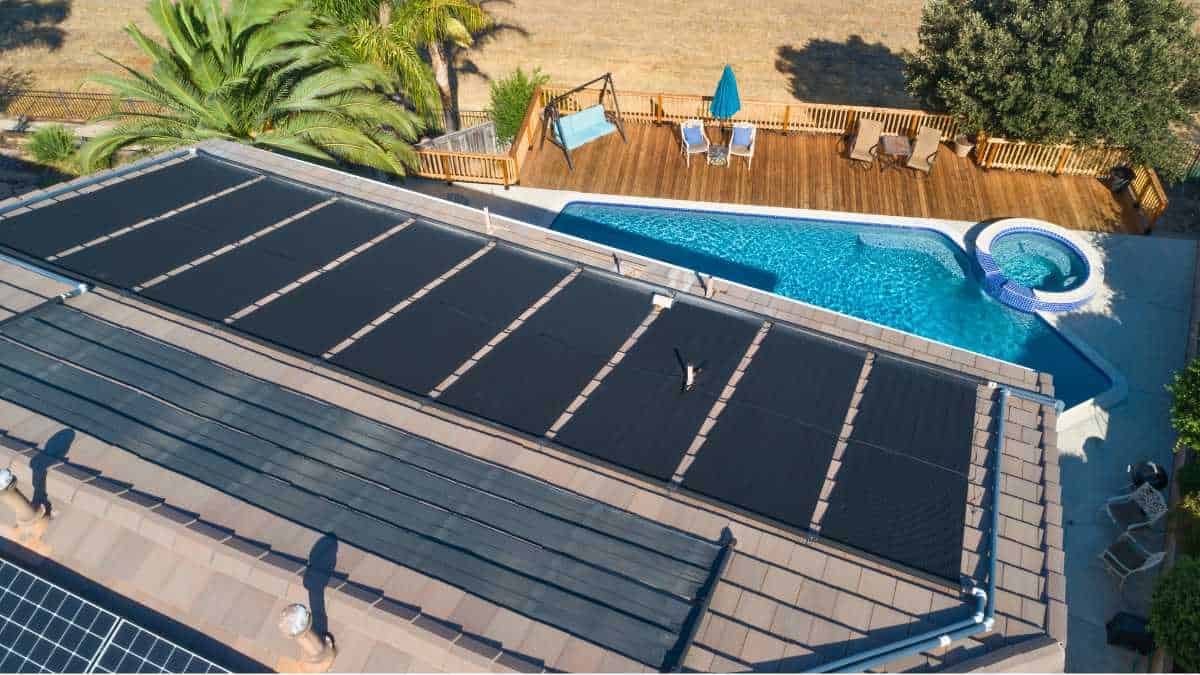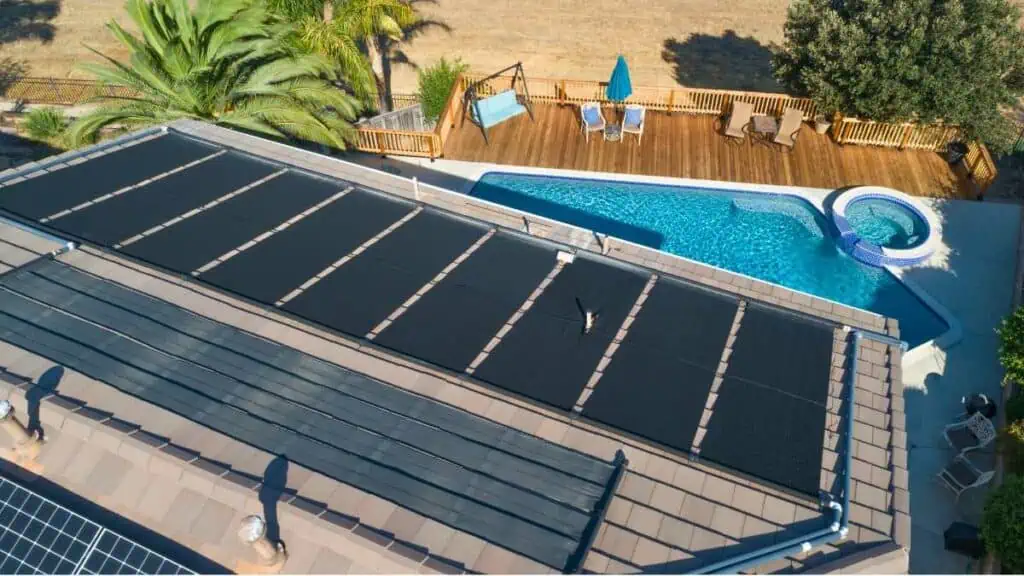 My Experience with Solar Pool Heating
When I purchased my house 10 years ago, the pool already had solar sheets fitted on the roof.
I would estimate that with these installed, and also using our solar pool cover, our swimming season is extended by up to 2 months. We are normally able to start swimming in April (March one year) and swim through until late October/early November.
In those 10 years, I have had no problems apart from one small leak which I fixed quickly and easily.
I would never pay for electric or gas to heat the pool so solar is an ideal free way to heat it.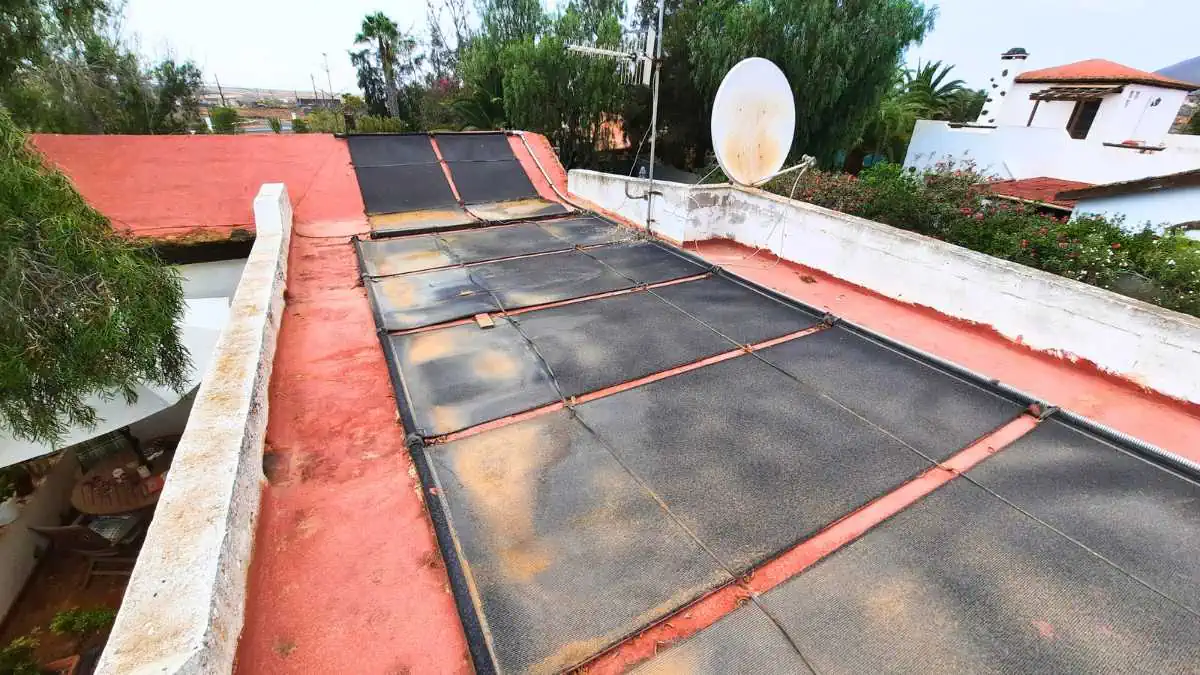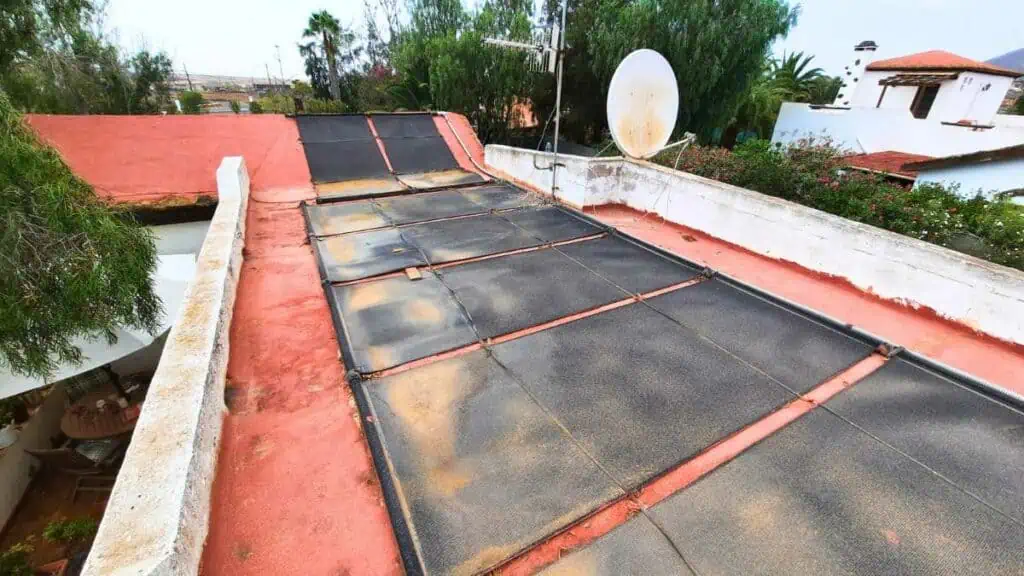 Best Solar Pool HeaterSolutions
Heat up your pool with some of the finest solar heating solutions available in the market. Check our list of top picks to find the perfect match for your swimming experience.
The SolarPoolSupply SwimEasy High Performance Solar Pool Heater Panel Full DIY Kit is designed for easy installation and long-term use. Made with top-quality pre-compounded polypropylene, these panels are built to withstand varying temperatures and UV light exposure, ensuring a lifespan of 15-20 years.
One of the best aspects of this solar heater is its universal compatibility with round 2″ I.D. header manifold, which makes it ideal for various pool sizes and types. The full DIY kit offers everything you need to mount and install the panels, creating a hassle-free experience for the user.
On the downside, some users have reported that the system requires higher temperatures to work effectively, which may not be suitable for all climates or seasons. But then it is pretty obvious, if you live in a mild climate area, with little sun, then they won't work as well.
Additionally, the SwimEasy panels come at a higher price than other competitors in the market, which may be a significant factor to consider when making a decision.
In conclusion, it is worth considering for its easy installation, long life expectancy, and universal compatibility, but be aware of the temperature requirements.
---
The SunHeater Smart Pool S601 Inground Pool Solar Heating System offers an eco-friendly solution to heat your pool. With 80 square feet of solar panels built with durable polypropylene material, this system efficiently captures sunlight to heat your pool. As a result, your swimming experience will be more enjoyable with warmer water during colder days, thanks to the temperature increase of 6-10°F (4-6°C).
In order to properly install this solar heating system, you'll need to purchase an installation kit separately, so make sure to factor that into your overall cost. Keep in mind that unrolling the panels may be a bit challenging, but once installed, the system works effectively to maintain the desired pool temperature.
Do not clamp header pipes down as it may cause performance issues. Instead, follow the provided instructions to maximize the efficiency of your SunHeater Smart Pool S601 Inground Pool Solar Heating System.
With a 4-star rating from 268 customers, this solar heating solution is worth considering if you're looking for a reliable and eco-friendly way to heat your in-ground pool.
---
The GAME SolarPRO Curve Solar Pool Heater is an eco-friendly solution designed for above-ground and most inground pools. It gradually raises the pool's water temperature by 5 degrees in 4 days, making it perfect for pool enthusiasts looking to extend their pool season.
Constructed with high-quality materials, this pool heater can withstand frequent exposure to sun and outdoor elements. Its unique curved shape and adjustable foldable legs allow for optimal solar energy collection, ensuring you get the most out of the sun's rays. The clear cover helps lock in heat and deflect cooling winds, further maximizing its efficiency.
However, keep in mind that this solar pool heater provides gradual heating and may not be ideal for those seeking a rapid increase in water temperature. Also, for larger pools or pumps greater than 1.5 HP, you may need multiple units and a bypass kit to get the most out of this product.
---
Doheny's Solar Heating Systems for above ground swimming pools offer both solar dome and solar panel collector kits to meet your pool's heating needs. These systems are designed to harness solar energy effectively, making them an eco-friendly solution for those looking to extend their swimming season with minimal operational costs.
The solar domes can raise pool temperatures by up to 10 degrees in about a week, and multiple collectors can be connected in series for increased efficiency.
The solar panel collector kits are available in various sizes to suit different pool dimensions. While the installation process is relatively straightforward, it's important to note that you may need to purchase a bypass kit if you plan to connect multiple heaters or have a 1 HP or larger pump in your pool. Additionally, should you choose to mount the collectors on a roof or plywood, you'll need to invest in a separate roof/rack mounting kit.
One downside to Doheny's solar heating systems is the exclusion of PVC or flex pipes in their packages, which may require you to make additional purchases for a complete setup. However, customers who have used these systems report satisfaction with the product's performance in raising pool temperatures effectively.
---
Doheny's Solar Dome Heating System offers an environmentally friendly way to heat your above-ground swimming pool using solar energy. This system is easy to install and can add weeks to your swimming season by harnessing the power of the sun, all while saving energy and money. With multiple collector configurations available, it's easy to find the perfect fit for your pool size.
However, there are some considerations to keep in mind when purchasing this solar dome pool heater system. If you have a larger pool or need to hook up multiple heaters, a bypass kit is required.
Additionally, if you choose to mount the collector kit on a roof or a rack, a separate mounting kit will need to be purchased. Be aware that PVC or flex pipes are not included in the package, so you'll have to acquire them separately.
---
The YUEWO Solar Dome Above Ground Pool Heater is a great option if you're looking for an eco-friendly way to heat your pool. Powered by sunlight, this heater magnifies solar rays within its streamlined housing to warm up your pool water. Its innovative design allows for better sun heat capture while taking up less space than traditional solar panels, making it suitable for small spaces.
Installing the YUEWO Solar Dome Pool Heater is quite simple. With standard 1.25-1.5-inch fittings, this heater is compatible with most above-ground pools. Just attach it to your filter and pump system, and let the warm water flow.
This solar dome pool heater is adaptable to different pool sizes and can work with any pool pump, both above-ground and underground swimming pools. However, there are some concerns regarding product leaks and compatibility with hard wall pools. Additionally, the heater may not be as effective for larger pools. Make sure to carefully consider your specific pool type, size, and needs before making a purchase.
---
The Beluga Pool Solutions Solar Heating Device utilizes the power of the sun to heat your pool's water as it passes through a standard garden hose. This innovative product is a convenient and cost-effective option for those looking to enhance their swimming experience without the need for costly gas or electric heaters.
Installation is quick and simple, as the device easily connects to a standard 1 1/2″ return fitting on an in-ground or permanent above-ground swimming pool. By allowing water to travel through the sun-warmed garden hose, the Beluga Solar Pool Heating Device effectively raises the water temperature before it reenters your pool.
The device is not designed to work with temporary above-ground pools, such as those from Intex, Bestway, or Summer Waves however they sell an additional Universal Adapter separately which will fit these.
Additionally, the heating performance may vary due to factors such as water flow rate, sunlight exposure, and the type and color of the garden hose used.
---
Buying Guide
When choosing the best solar heating solution for your pool, there are several factors to consider to ensure you get the most efficient and cost-effective system.
In this guide, we will walk you through the key features and aspects to look at when selecting the right solar pool heater for your needs.
Size and Efficiency
The size and efficiency of the solar collector are crucial factors in determining how well the system will heat your pool. You will need to consider the surface area of your pool, as well as the amount of sunlight your region receives.
A larger collector is more effective in capturing solar energy, but it should be proportionate to the surface area of your pool. The efficiency of the collector is also significant. Opt for one with a high thermal efficiency rating.
Durability and Materials
The durability of the solar heating system is another important factor. Look for systems made from high-quality materials that can withstand different weather conditions.
Popular materials for solar collectors include polypropylene, ethylene propylene diene monomer (EPDM), and extruded aluminum.
Installation and Compatibility
Before buying a solar pool heating system, ensure it is compatible with your pool's existing pump and filtration setup.
Some solar heaters can be easily installed by yourself, while others may require professional installation. Factor in installation costs and the level of expertise required when making your decision.
Warranty and Support
A solar pool heater is an investment, and you want to be sure you are covered in case anything goes wrong. Look for products with a solid warranty covering manufacturing defects and other possible issues.
Additionally, consider how easy it is to access customer support and whether replacement parts are readily available if needed.
By carefully considering these aspects, you'll be able to choose the best solar heating solution for your pool, ensuring maximum efficiency and enjoyment.
How Do Pool Solar Heaters Work?
Pool solar heaters use the sun's energy to warm swimming pool water. The process involves:
Absorption of Sunlight: Solar collectors, typically made of rubber or plastic panels, absorb sunlight and convert it into heat.
Water Circulation: Pool water is pumped through these solar collectors. As water flows through the panels, it absorbs the heat from them.
Returning Heated Water: The now-warmed water is returned to the pool, raising the pool's overall temperature.
Installation Process
Solar heating systems do not require a separate pump or electrical hook-up but are installed in part of your existing pool plumbing set-up.
Site Assessment: Determine the best location for the solar collectors, usually a roof or an open area near the pool that receives ample sunlight.
Mounting the Collectors: Solar panels or collectors are mounted on the chosen location. If on a roof, they're typically fastened using brackets.
Plumbing Integration: The pool's circulation system is integrated with the solar heating system. This involves connecting the pool pump to the solar collectors using PVC pipes.
Installing a Control Valve: A manual or automatic control valve is installed to divert water through the solar collectors when heating is desired.
System Check: Once everything is set up, the system is tested to ensure water flows correctly through the collectors and returns to the pool.
Optional Controller: Some systems may include a temperature controller that automatically sends water through the collectors when the sun's energy is sufficient and the pool requires heating.