Swimming pools provide endless entertainment and relaxation, but they also come with inherent risks, especially for children and pets. Ensuring their safety around the pool requires constant vigilance, which can be both exhausting and impractical.
This is where choosing the best pool alarm comes in as an essential tool to enhance safety. Pool alarms act as an extra layer of protection, alerting you of any disturbances at the pool's surface or perimeter so you can quickly respond to potential accidents.
Of course, this doesn't mean you can fully let your guard down – you will still need to watch out but at least a pool alarm for kids and pets will add another level of safety.
Pool safety devices come in various designs and types, focusing on surface, subsurface, immersion, and perimeter detection. Surface and subsurface alarms detect motion in the water, making them ideal for monitoring pets and children around the pool. Perimeter alarms set up a barrier around the pool area to prevent unauthorized access.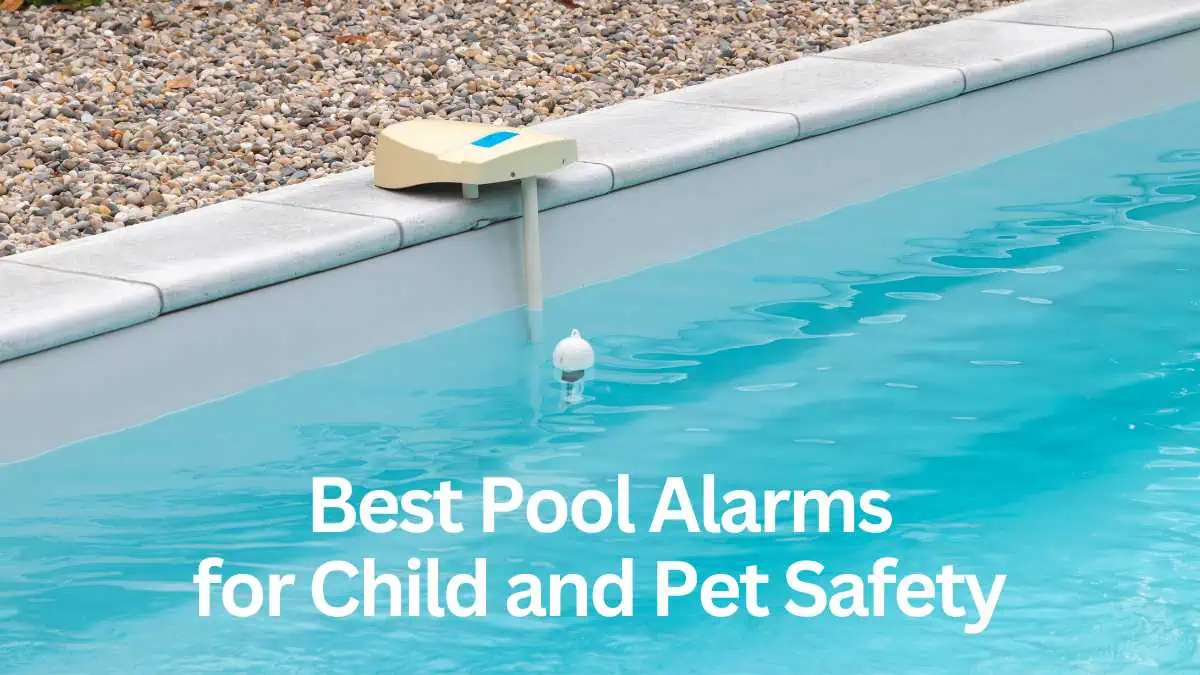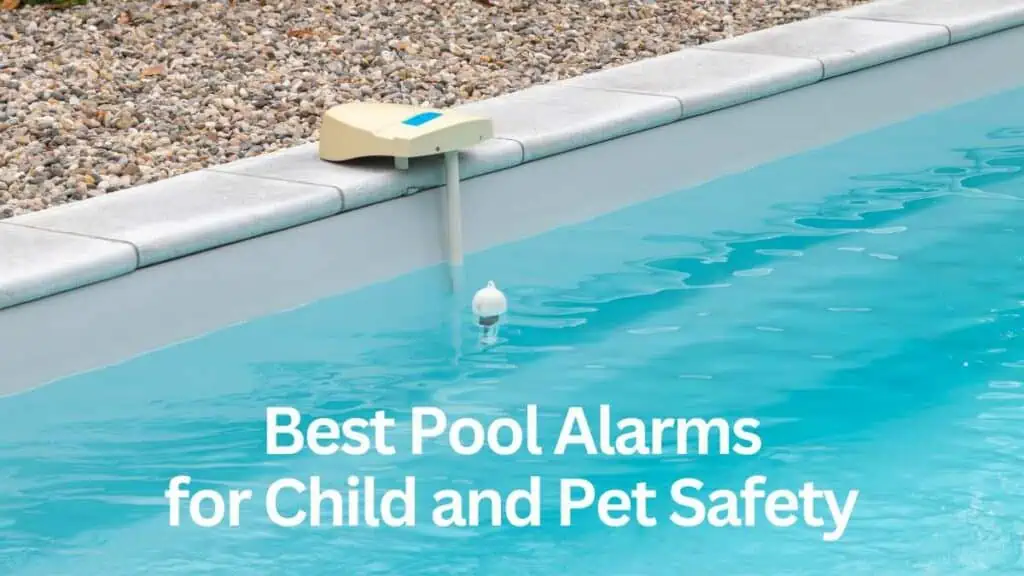 These are our top picks to help you find the best fit for your particular needs and situation. So equipped with the knowledge of the different types of pool alarms for dogs, cats, and not forgetting children, and their key features, you will be able to make an informed decision on the best pool alarm for the safety of your children and pets.
Best Pool Alarms for Child and Pet Safety
Below, you'll find our carefully selected list of the top pool alarms to ensure the safety of your children and pets when near or around the pool area.
The PoolScout Wi-Fi Camera & Alarm Unit uses cutting-edge AI technology to distinguish between a toddler, adult, or pet, thus providing real-time notifications and alerts to keep your pool area safe. Its advanced AI event detection ensures that you get the right alerts when it matters most, and the high-resolution camera with a built-in siren offers added security.
Installation is also a breeze, as the unit comes with a quick-connect system and three screws for a fast and reliable connection. Once installed, the PoolScout is easy to operate through the app on your iOS or Android device. You can set customized alerts and boundaries, providing maximum peace of mind for your family.
However, it is essential to know that a premium subscription (not included) is required for the full range of AI-powered features.
Some users have also reported difficulties with customer service, which may be an issue if you encounter any problems during installation or use. Additionally, the unit does not have battery backup and relies on a corded electric power source.
---
BCone's smart floating pool safety alarm system is designed to make your pool safer for children and pets. With compatibility to Alexa and Google Assistant, you can easily control the alarm system from your smartphone, even when you are not around the pool.
The advanced algorithm of the alarm system helps to prevent false alerts and ensure accurate detection of any potential danger.
The alarm system is suitable for any type and size of pool, spa, or garden pond, meeting the ASTM-F2208 requirements. Up to four pool units can be connected to one home unit for large pools or multiple pools and spas.
While the BCone Smart Floating Pool Safety Alarm System adds an extra layer of protection around your pool, it does depend on your smartphone for full control which could be a downside for some users. Additionally, the alarm system needs a relatively calm pool environment for accurate detection, and using multiple pool units could become expensive.
---
The SwamCam Pool Alarm Camera Drowning Prevention System is designed to enhance the safety of your pool area by using AI motion detection technology. This system can detect human entry into the pool before a potential drowning occurs, alerting you and allowing more time for essential responses.
It's certified to ASTM F2208 Standards, ensuring that it meets the necessary requirements for functionality and safety.
This pool alarm system is equipped with a feature that sounds alarms in multiple locations, including the pool, inside the house, and remotely on a smartphone.
You can either use the built-in options or record a custom message for the alarm, fostering prompt reactions to potential dangers. Besides, with the integrated Wi-Fi repeater and one-touch emergency direct dial, the system ensures you stay connected and well-informed at all times.
Monitoring your pool area becomes hassle-free with the SwamCam Pool Alarm, which offers 1080p Full-HD video streaming. You can check on your pool from anywhere in the world with internet access, granting you peace of mind.
However, the user interface may need improvements as some customers reported difficulty transitioning between features in the smartphone app.
---
Lifebuoy Pool Alarm System uses advanced motion-detecting technology to ensure your child and pet safety in the vicinity of your pool. Whether you have an above-ground pool, in-ground pool, spa, or an ornamental pool, this versatile alarm system can be adapted to suit your needs.
Powered by non-rechargeable batteries, the Lifebuoy system is suitable for pools up to 20 ft x 40 ft. For larger pools, you can use multiple Lifebuoy systems simultaneously.
The Lifebuoy Pool Alarm features a user-friendly Bluetooth app that allows you to set up and control the alarm system with ease. However, keep in mind that the app will only work within the range of the Bluetooth connection.
You can adjust the sensitivity of the system, increase or decrease the siren length, and connect multiple Lifebuoy systems – all through the app.
One downside of the Lifebuoy Pool Alarm System is that it requires non-rechargeable batteries which may need replacement over time. Additionally, some users have reported false alarms, so it is essential to adjust the sensitivity correctly to avoid these instances and maintain the system's reliability.
---
The IC ICLOVER Pool Alarm is designed to help keep your children and pets safe around swimming pools. With its poolside motion sensor, the alarm can detect any water surface disturbances, giving you instant feedback if something goes wrong.
It features a flashing receiver alarm with an 85 dB sound, making it hard to miss if triggered. This alarm system is suited for pools up to 16×32 ft.
One downside to this product is that it requires drilling holes at the edge of your pool to secure its position. Be prepared to use an electric drill and follow the included installation guide.
It is important to remember that the IC ICLOVER Pool Alarm is not a life-saving device and should not replace adult supervision, fences, or other safety measures. Additionally, the alarm system's accidental activation prevention may cause some confusion for users, as it requires specific actions to change its working status.
---
The YardGard Gate and Window Alarm stands out as a valuable addition to your pool security measures, thanks to its loud 120 dB alarm that alerts you and your neighbors of unauthorized entry. Alarms for pool gates can act as an effective layer of protection against unsupervised children or pets wandering into your pool area.
One of the main advantages of this pool alarm is that it meets the national standard for residential water hazard barrier alarms, being ETL certified to UL 2017. Moreover, it is easy to install on wooden or metal gates, sliding glass doors, or windows, as it comes with all the necessary mounting hardware.
On the downside, this YardGard alarm system is battery-operated, and batteries are not included, which can be an inconvenience. Some users also mentioned that the wires are visible on the device, making it look slightly cumbersome. Additionally, the design of the alarm itself is clunky, and it may not be aesthetically pleasing.
---
Buying Guide
When choosing the best pool alarm for child and pet safety, there are several factors to consider to make sure you get the most effective and reliable product for your needs.
Detection Range and Sensitivity
Consider the detection range of the pool alarm. It should be able to cover the entire pool area and detect movement from children and pets entering the water. Make sure the sensitivity level is appropriate for your specific situation, as some alarms may be triggered by wind or other natural elements.
Installation and Ease of Use
An easy-to-install and user-friendly pool alarm saves you time and prevents potential mishaps. Look for alarms that come with clear instructions and have a straightforward setup process. Additionally, it's essential that the alarm is easy to operate, so choose one with a user-friendly interface and simple controls.
Types of Pool Alarms
There are different types of pool alarms, such as surface wave detection alarms, underwater motion alarms, and perimeter alarms. Consider which type would be most suitable for your pool and specific needs.
Surface wave detection alarms detect disturbances on the water's surface when a child or pet falls in.
Underwater motion alarms are more sensitive and operate by detecting movement and displacement of water.
Perimeter alarms use infrared technology to create a barrier around the pool area, alerting you when someone crosses the set boundary.
Alarm Sound and Volume
Choose a pool alarm with a loud and clear alarm sound that can be heard from a significant distance. This ensures that you will be alerted promptly when the alarm is triggered. Check the alarm's decibel level and compare it with other available options.
Battery Life and Power Source
Consider the pool alarm's battery life and power source. An alarm that operates on longer-lasting batteries or has an efficient power source will result in less frequent battery replacements and more reliable performance.
Weather Resistance and Durability
Pool alarms are exposed to various weather conditions, so it's crucial to select one that's built with weather-resistant materials. This ensures that your pool alarm remains functional and doesn't break down due to weather-related damage.
By considering these features, you can make an informed decision when selecting the best pool alarm for your child and pet safety needs. Remember to regularly test and maintain your pool alarm to ensure it remains in optimal working condition.