Best Pool Vacuum Heads
Although the title of this post is best pool vacuum head, to be honest, I don't really think there is such a thing.
Although there are some great pool vacuum heads available, generally, I find that there isn't one that does everything I want. At least none that I have used so far.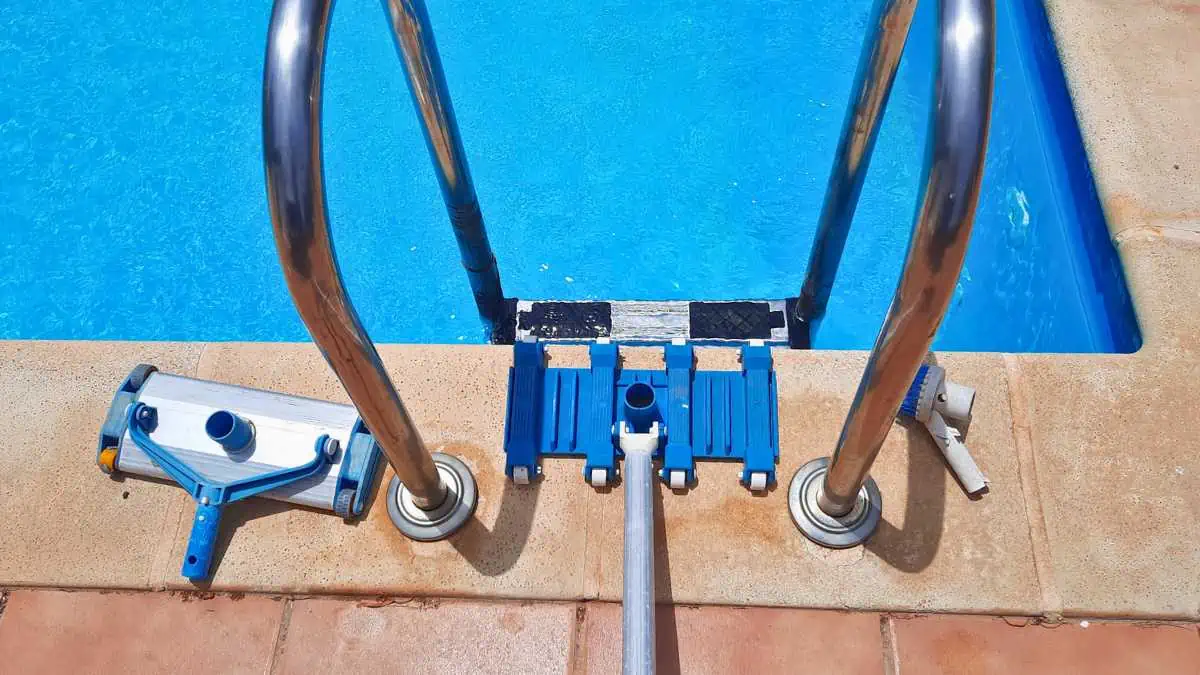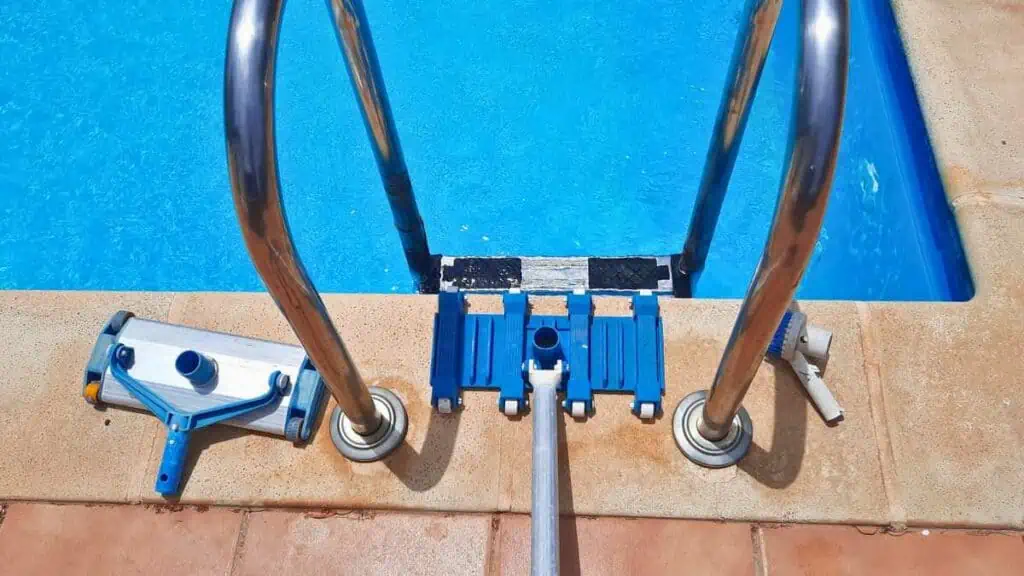 So I have three different vacuum heads that cover different situations:
I have a flexible vacuum head (an older version of the Fibropool below) that is great for not only cleaning the floor of my pool but also, as it will bend around the curved join between the floor and the walls, it cleans that well too.
As it doesn't have any brushes it is also good for vacuuming very light debris such as algae dust without disturbing it.
I have a vacuum head with brushes underneath that is great for general cleaning, particularly if there is stubborn debris on the bottom which the brushes can remove.
However, this type is not so good when it comes to vacuuming light debris such as algae dust as the brushes tend to disturb it before it can be vacuumed. The algae dust then goes into suspension and settles on the bottom again later.
I also bought a small corner brush vacuum head a few years ago in a pool store. To be honest I didn't think it would work that well but it was cheap so I bought it.
It is great for cleaning the corners and in hard-to-reach places such as the rungs of my pool ladder.
I am not suggesting that you immediately buy three different vacuum heads but you may find over time that you will accumulate some different types as I have. Fortunately, they are not very expensive so having more than one isn't such a big expense.
Anyway, this is my selection of the best pool vacuum heads to make your pool cleaning tasks easier and more efficient. Check out the list below to find the best pool vacuum head for inground pool and above ground pools.
The FibroPool Professional Flexible Swimming Pool Vacuum Head is designed to make your pool cleaning tasks simpler and more efficient. Its generous cleaning area measuring 14.4″x10.5″x2.25″ covers a large surface, ensuring a thorough cleaning experience.
The flexible thermoplastic body of the pool cleaner head adapts to every curve and contour of your pool's surface, providing a more effective cleaning solution.
One of the significant benefits of this vacuum head is its six integrated weights, which assure a consistent seal on all pool surfaces for superior cleaning power. The vacuum suction port connects to a standard 1.5″ hose, making it compatible with your existing equipment – no need to purchase proprietary accessories.
A chrome-plated metal handle attaches to most standard-sized extension poles, ensuring durability and easy maneuverability. Long-lasting urethane wheels with metal ball bearings roll smoothly on your pool's surface, protecting it from any damage.
While the FibroPool vacuum head is praised for its cleaning capabilities and solid construction, it is heavier than some other vacuum heads. Some customers have reported minor assembly issues and concerns about the packaging not sufficiently protecting the vacuum head during shipping.
This is the best pool vacuum for algae and dead algae that I have used as it doesn't have brushes that disturb the dead algae before it can be vacuumed.
---
The Milliard Deluxe Pool Vacuum Head is designed to make cleaning your pool a breeze, thanks to its weighted design and triangular shape. It easily maneuvers around corners and along walls, ensuring you don't miss any spots. The unique angled bristle sets at the corners sweep along the pool edges, making it easy to clean those challenging tight spaces.
Due to its universal fit, this vacuum head works with standard 1.25" and 1.5" vacuum hoses and is easily attachable to standard extension poles. The 12 soft brush sets on its 11" wide cleaning surface come with Polypropylene bristles, which are firmer than Nylon. This helps effectively remove debris and dirt from your pool's floor.
However, some users experienced bristles arriving bent or damaged due to shipping. It's also important to note that you may need to apply extra force when moving the pool suction head along the pool floor, and some users found that they had to add more weight to keep it flat on the bottom of the pool.
Overall, the Milliard Deluxe Pool Vacuum Head is a convenient and efficient way to maintain your pool, but make sure to inspect the bristles upon arrival and be prepared to make minor adjustments if needed.
---
The U.S. Pool Supply 11″ Weighted Butterfly Pool Vacuum Head offers a simple and efficient cleaning solution for your swimming pool. Its swivel head connection allows compatibility with both 1-1/4″ and 1-1/2″ hoses, making it a versatile option for various pool setups.
With a weighted body design, this vacuum head maintains consistent contact with the pool floor to effectively remove debris and keep your pool pristine. It may or may not be the best vinyl pool vacuum head but Its construction is particularly safe for vinyl lined pools, ensuring that you don't have to worry about potential damage to your pool during cleaning.
However, it's worth noting that this pool skimmer head may have difficulty cleaning curved edges. You might have to put in some extra effort to ensure a thorough cleaning in those areas. Although the vacuum head is mostly efficient, some users have reported occasional issues with shipping and deliveries, which may impact your overall purchase experience.
The U.S. Pool Supply 11″ Weighted Butterfly Pool Vacuum Head provides a solid and budget-friendly solution for maintaining a clean and inviting pool throughout the swimming season. Despite some minor drawbacks, its compatibility, weighted design, and safety for vinyl pools make it a worthwhile consideration for your pool maintenance needs.
---
Aquatix Pro's Step & Corner Pool Vacuum Brush is designed to make your pool cleaning tasks easier, specifically targeting those stubborn corners, steps, and odd-shaped areas. Its fine nylon bristles glide effortlessly over the surfaces, ensuring that the tightest spots are cleaned. With its small and compact size, using this vacuum brush will be a breeze.
Compatibility is essential, and this vacuum pool brush works with most standard 1-1/2″ hose connections and 1-1/4″ pool pole connections. It's not just limited to swimming pools, as the brush is also ideal for use in spas and hot tubs. Your pool maintenance will never be the same with this handy tool in your collection.
However, keep in mind that some users have reported the bristles becoming brittle over time and might break off in your pool but this happens with all pool vacuums that have nylon/plastic brushes.
Ensure that the hose connections fit your hose before purchasing, as it may not be a perfect fit for everyone. Also, this brush is better suited for vacuuming sand, silt, and small debris; it may struggle with larger debris like leaves.
Overall, the Aquatix Pro Pool Step & Corner Vacuum Brush offers excellent performance for hard-to-reach places and can be a valuable asset to your pool cleaning routine.
---
Pool Vacuum Head Buying Guide
Choosing the best manual pool vacuum head can be a daunting task, especially with so many options available. In this buying guide, we will help you find the perfect pool vacuum attachment for your needs. I break down the essential features to consider and give you some tips to make the right choice.
Pool size and shape
First, consider the size and shape of your pool.
If you have a smaller pool, a more compact swimming pool vacuum head might be sufficient. However, if you own a larger or uniquely shaped pool, a vacuum head that is designed specifically to handle curves or other unique shapes will be beneficial.
Brush quality
Next, take a close look at the brush quality.
A vacuum head with durable, sturdy bristles will ensure that debris is efficiently collected, and your pool is thoroughly cleaned. On the other hand, a vacuum head with soft bristles can be useful if you have a vinyl pool liner to avoid scratches and damage.
Many vacuum heads have nylon/plastic brushes and over time these are likely to become brittle and start to break off.
Weight
Weight and ease of use are other important factors. A lightweight vacuum head will make it easier for you to maneuver it around the pool, while a heavier one might require more effort.
Look for vacuum heads with ergonomic designs that make the cleaning process more straightforward and comfortable.
Suction
A good vacuum head should also have strong suction capabilities. Make sure the vacuum head you choose is compatible with your pool's pump and filtration system, as this will ensure optimal performance.
Type of debris
Finally, it's essential to consider the type of debris present in your pool.
If you're dealing with large debris, such as leaves and sticks, you may want to look for a vacuum head designed to handle more substantial materials.
If you struggle mainly with fine dirt and sand, a vacuum head with finer filter capabilities will be more appropriate. In this case, a vacuum head with brushes may not be the best.
To sum it up, when choosing the best pool vacuum head for your needs, remember to consider the following factors:
Size and shape of your pool
Brush quality
Weight and ease of use
Suction capabilities
Type of debris in your pool
By carefully considering these aspects and weighing the pros and cons, you'll be able to find a vacuum head for pool cleaning that will keep your swimming area clean and inviting. Good luck and happy shopping!
Also read: Best Above Ground Pool Pump and Filter: Top Picks for 2023