Inflatable hot tubs bring a soothing and relaxing experience to your home, especially during the winter months. The warmth and comfort provided by these portable spas can transform your backyard into a personal oasis or can be placed in a garage or some other indoor area.
Specifically designed for winter use, the best inflatable hot tubs should maintain an optimal water temperature, withstand freezing conditions, and offer a cozy environment to unwind.
Utilizing an inflatable hot tub in colder climates can showcase its effectiveness and convenience. These hot tubs are not only portable and space-saving but can also provide therapeutic benefits by alleviating sore muscles and stress during the frosty winter days.
Unsurprisingly, inflatable hot tubs are more affordable than traditional fixed hot tubs, making them an attractive option for those looking to add luxury to their outdoor living area without breaking the bank.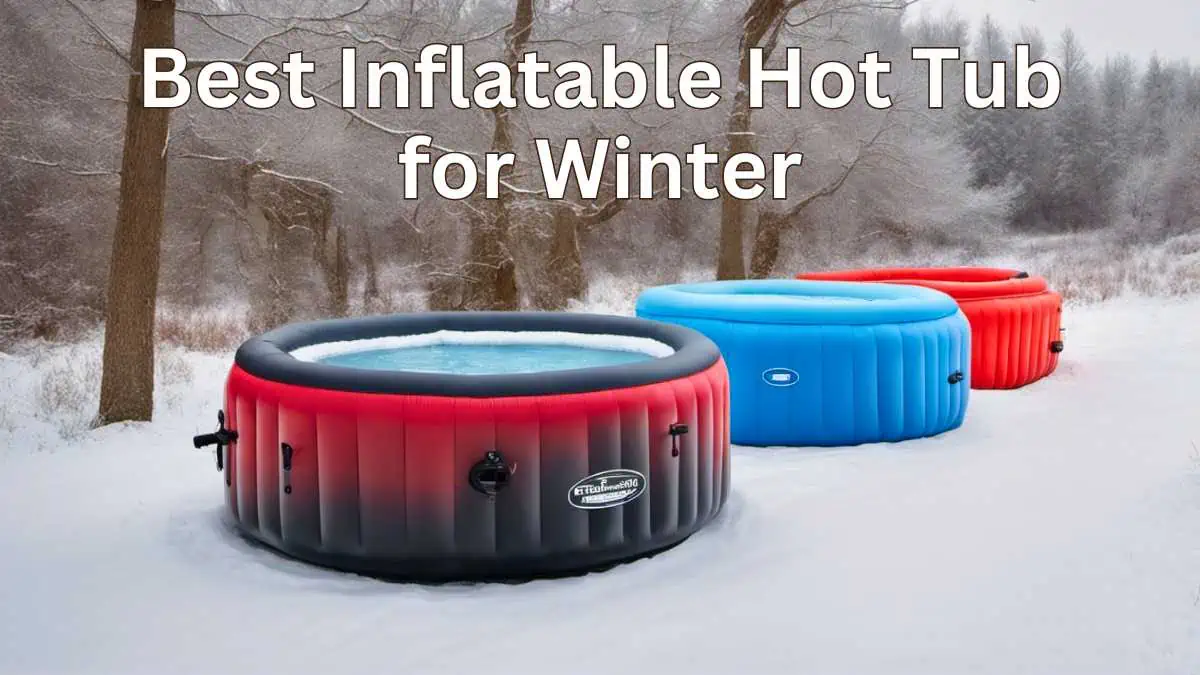 When searching for the perfect inflatable hot tub for winter use, it's essential to consider factors such as insulation, heating capabilities, durability, and the overall quality of the materials used.
Take your time to research and compare the various options available in the market. Let this guide help you find the best inflatable hot tub for winter, allowing you to indulge in an unparalleled relaxation experience in the chilly months to come.
If I had to select just one as my top pick it would be the Intex 28409E PureSpa 6 Person Inflatable Hot Tub

Best Inflatable Hot Tub for Winter
Winter is the perfect time to enjoy a warm soak, and we have compiled a list of the best inflatable hot tubs for you. Stay cozy and relaxed during those frosty months by choosing the ideal product from our recommendations below.
The Intex 28409E PureSpa 6 Person Inflatable Hot Tub is an excellent option for those who want to enjoy the benefits of a hot tub without the commitment and high cost of a permanent installation of a traditional hot tub. This inflatable hot tub offers ample space for up to six people, making it perfect for socializing with friends and family or simply relaxing on your own after a long day.
One of the standout features of this inflatable tub is the built-in hard water treatment system, which not only makes the water softer on your skin but also ensures the longevity of the spa itself by preventing the accumulation of damaging minerals in the system.
The 170 high-powered bubble jets deliver a rejuvenating and refreshing massage experience, complete with the added bonus of a multi-colored LED light system, creating a soothing ambiance for your evenings.
However, potential buyers should keep in mind that this inflatable spa may take longer to heat up than estimated, which may be an issue during winter months when you're eager to take a warm soak. Additionally, a few users have reported air leaks in their units, which might make the hot tub less enjoyable or necessitate patching.
Lastly, for customers in California, be prepared to purchase an additional energy-efficient cover as required by law.
---
The Bestway Miami SaluSpa offers a relaxing experience with its 140 air jets and SaluSpa Massage system. The rapid heating system can heat up the hot tub quickly, ensuring that you don't have to wait long to enjoy a warm soak in colder months.
The integrated water filtration keeps the water clean, and the cushioned floor with a convenient drain valve allows for easy maintenance and cleaning.
Although the inflatable spa can seat up to 4 people, it might feel a bit cramped for larger gatherings. One downside is that it tends to lose heat more quickly while you are using it, so you may need to keep the heater on during use to maintain a comfortable temperature. However, the aluminum foil-coated pool cover helps to keep the water extra warm when you're not using the tub.
In addition, connecting the hot tub to your mobile app could be a challenge for some users. Despite this, the Bestway Miami SaluSpa is a top pick for those looking to invest in an inflatable hot tub for the winter season.
Perfect for unwinding after a long day in your outdoor space, you can immerse yourself in its soothing air jets and enjoy a relaxing experience any time of the year.
---
The Intex Simple Spa is an affordable and convenient way to unwind during the colder months. With its 100 high-powered jets, this inflatable hot tub can accommodate up to four people, making it perfect for a small group or family.
It offers a comfortable and luxurious experience at the touch of a button with its built-in hard water treatment system that ensures a gentle feeling on the skin while you soak.
However, keep in mind that the Intex Simple Spa does not come with chemicals for water treatment, which are essential to maintain a safe and clean environment for you and your guests. You will need to purchase these separately. Additionally, the tub takes a significant amount of time to heat the water initially, so it's essential to plan accordingly.
Another point to consider is that the bubbles generated by the jets can cause the water temperature to drop slightly during use. This may not be a significant issue for most users, but it could be less comfortable during colder winter days.
---
The Coleman SaluSpa provides a soothing experience with warm water and 140 bubble jets that cater to your back, neck, and shoulders. The digital control panel allows you to easily adjust the water temperature (up to 104 degrees Fahrenheit) and pressure of the jets. Additionally, the power-saving timer offers automation of the temperature for up to 72 hours to conserve energy and reduce costs.
Constructed with durable PVC material and I-beam technology, the inflatable hot tub maintains its shape and stability over time. The setup and maintenance processes are simple, requiring no extra tools.
The provided pump ensures quick inflation and deflation, while a cover adds safety, maintains warmth, and prevents debris from entering the water.
The portable hot tub has lift handles for effortless moving and storage. However, potential buyers should note that shipping restrictions may apply to certain states and this item is not eligible for international shipping. Power consumption may be high, though shared use could help to offset these costs.
---
The Bestway Coleman Hawaii AirJet inflatable hot tub is designed to provide you with the ultimate relaxation experience during the colder months. With enough room to comfortably fit 4 to 6 people, you and your friends or family can enjoy the soothing massage of 140 warm jets that reach up to 104 degrees Fahrenheit.
One impressive feature of this inflatable hot tub is its EnergySense hot tub cover, which retains heat 40% more effectively than standard covers. This not only keeps your hot tub warmer throughout the season but also meets all energy efficiency requirements for sale in various states. Plus, the DuraPlus 3-layer material ensures resistance to punctures and stretching, giving you peace of mind during use.
This hot tub comes equipped with a pump that inflates the spa, heats the water, runs filtration, and controls the massage system with high-powered bubble jets for easy setup and maintenance.
The package also includes a cover, chemical floater, two filter cartridges (VI), a repair patch, and a 6-foot-long cord, ensuring you have all you need to set up your inflatable hot tub.
However, it's worth noting that this hot tub cannot be used in temperatures below 39 degrees Fahrenheit, so do consider this limitation when planning your winter relaxation. Furthermore, the required 110/120-volt 3-prong plug may limit placement options for some users.
Inflatable Hot Tub Buying Guide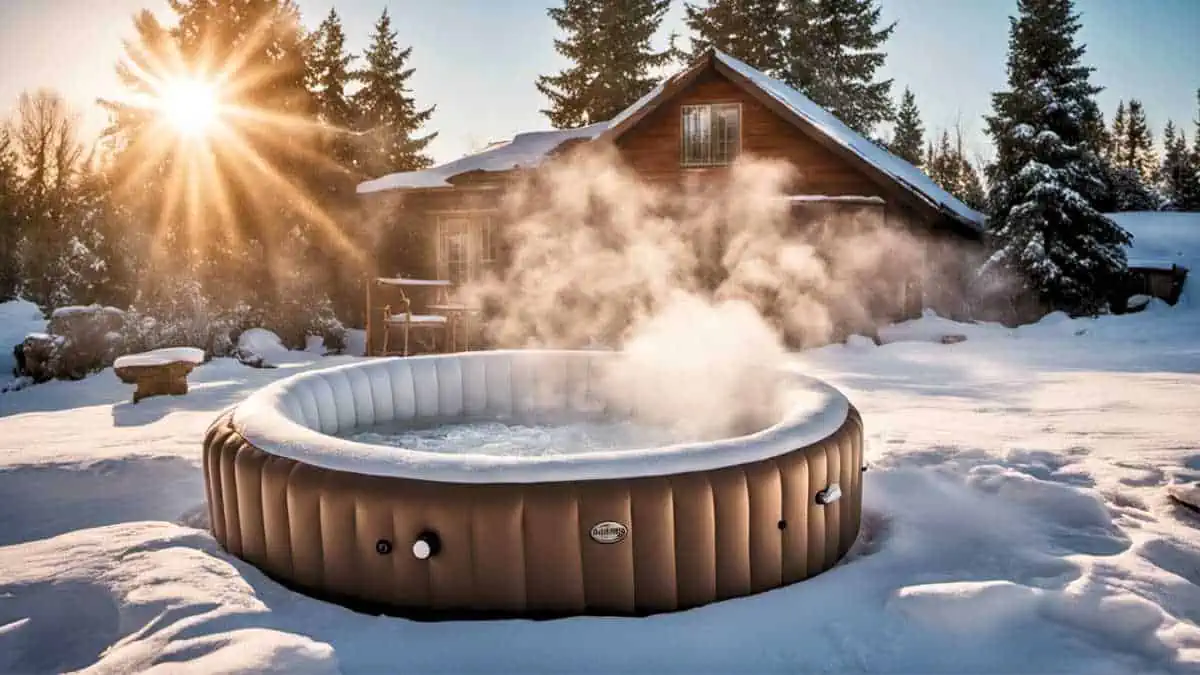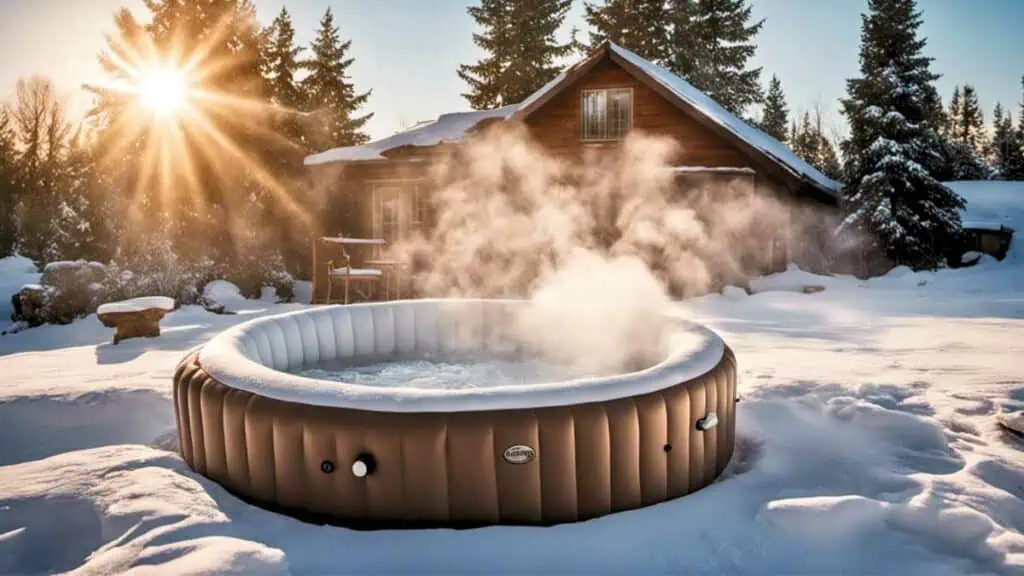 When it comes to choosing the best inflatable hot tub for winter, several factors come into play. In this buying guide, we will cover key features you need to consider before making your decision.
Insulation
Insulation is crucial for maintaining water temperature in cold weather. Look for an inflatable hot tub with good insulation around the tub and a well-fitting insulated cover. A thermal ground cloth can also be invaluable in retaining heat.
Capacity and Size
Think about how many people will typically be using the hot tub and choose the appropriate capacity. Inflatable hot tubs range from 2-person to 8-person capacity. Additionally, consider the available space in your backyard, ensuring there is enough room for installation and any necessary accessories.
Features
Consider the features you want. Do you prefer a simple, no-frills tub, or do you want one with all the bells and whistles? Some inflatable hot tubs come equipped with built-in seats, cup holders, and even LED lights.
Material and Durability
A winter-worthy inflatable hot tub should be made from strong and durable materials such as puncture-resistant PVC, polyester mesh core or reinforced vinyl. This will help the tub withstand harsh weather conditions, and you can enjoy it for longer. It is important to have an ease-of-use temperature control that shuts off when the desired water temperature is reached and won't allow the maximum temperature to be exceeded. Another useful feature is freeze shield technology.
Heating System
The efficiency and speed of the heating system are important during winter, as you want your hot tub to be at a comfortable temperature quickly. Check the heater's wattage and heating rate, looking for a system that can raise the water temperature at least 2-3°F per hour.
Energy Efficiency
Choosing an energy-efficient inflatable hot tub can help you save on electricity bills. Efficient hot tubs feature thicker insulation, a well-fitting cover, and a heating system that uses minimal energy without sacrificing performance.
Filtration and Cleaning System
A good filtration system helps keep the water clean, reducing the need for frequent water changes. Ensure the inflatable hot tub has an easy-to-replace filter and a cleaning system. Some models come with a built-in hard water treatment system, which can be beneficial for your skin and the hot tub's longevity.
Remember to check user reviews and compare the features mentioned above to find the best inflatable hot tub for your winter needs.