In-pool lounge chairs offer a luxurious and relaxing way to enjoy your pool's sun shelf.
Sun shelves, also known as a Baja shelf or tanning ledge, are shallow water areas within a pool designed for lounging, sunbathing, and even playing with young children. Make the most of this area by having pool lounge chairs that go in the water, directly on the sun shelf.
Having the right in-pool sun shelf chairs on your tanning ledge elevates your pool experience, providing comfort while you soak up the sun and stay refreshed in the water.
In-water pool lounge chairs come in a variety of materials, styles, and sizes, making it easy for you to find the perfect fit for your outdoor space. Top-quality materials like UV-resistant plastics, marine-grade fabrics, and stainless steel frames provide durability against weather and pool chemicals.
Additionally, some lounge chairs are designed with ergonomic features for enhanced comfort, while others offer adjustable reclining options or even built-in cup holders and side tables for added convenience.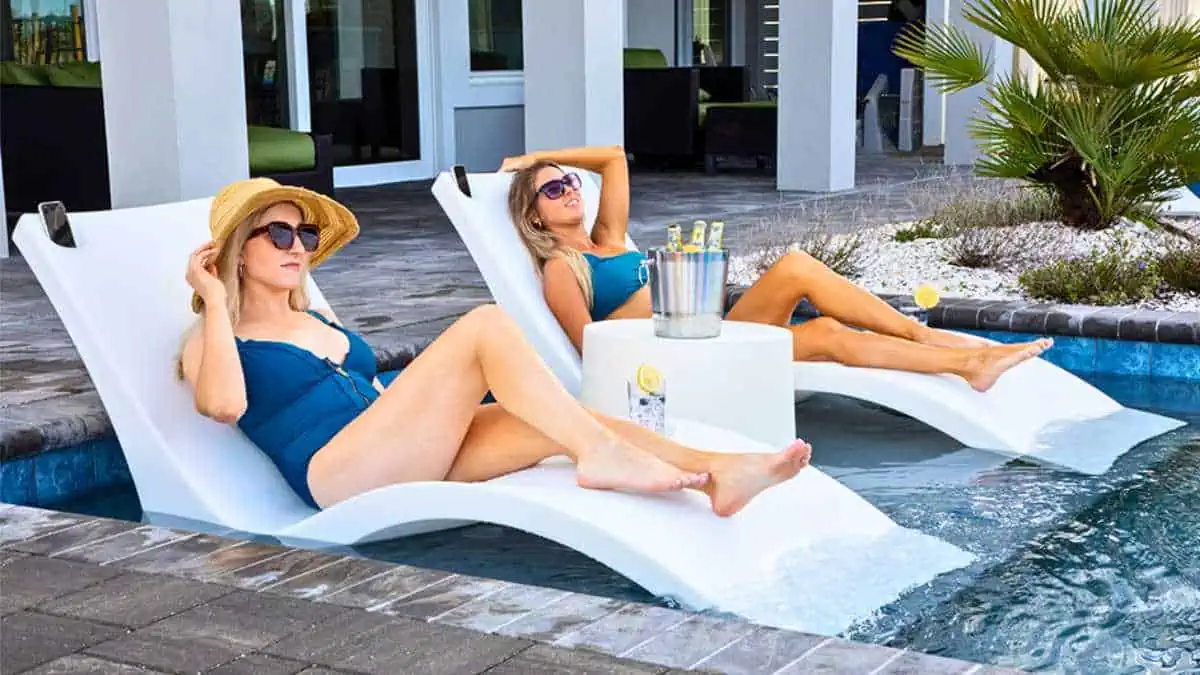 When considering an in-pool lounge chair for your sun shelf, it's crucial to pay attention to factors such as material, dimensions, weight capacity, and ease of maintenance.
Look for materials that are built to withstand exposure to sunlight, water, and pool chemicals. The right size and weight capacity ensure the chair stays stable and comfortable on your sun shelf, while easy-to-clean designs save you time and effort in the long run.
With these factors in mind, finding the perfect in-pool lounge chair for your sun shelf becomes a breeze, allowing you to spend more time enjoying your pool in comfort and style. In the following section, we will dive into the best pool lounge chairs available to help you make an informed decision.
Best In Water Pool Chairs
Explore our carefully curated selection of the best chairs for pool sun shelf tailored for relaxation. Enhance your pool experience with these stylish and comfortable choices.
Floating Luxuries Kai Shelf Loungers
Upgrade your pool relaxation experience with this pair of comfortable and stylish in-pool chaise lounge chairs designed for sun shelves.
Pros
Perfect for tanning shelves with less than 9 inches of water
Features built-in cup holder and convenient phone holder
Ergonomically designed for optimal comfort
Cons
Cannot be used in water depths over 9 inches (see below for deeper version)
May require a tanning shelf at least 66 inches in length
May be susceptible to staining
Floating Luxuries Kai Shelf Loungers give you the ultimate poolside relaxation experience. Designed specifically to use for in-pool tanning shelves with up to 9 inches of water, these loungers have an ergonomic design that provides optimal comfort, allowing you to soak up the sun and unwind without leaving the refreshing water.
These pool shelf loungers come with convenient built-in cup holders and phone holders, enabling you to sip on your favorite drink and scroll through your social media feed without having to leave your comfortable spot. Their UV20+ rated material is made to withstand 20,000+ hours of direct sunlight, ensuring they remain durable and resistant to fading.
However, be cautious of a few limitations – Kai Shelf Loungers cannot be used in water depths greater than 9 inches and may require a tanning shelf at least 66 inches in length.
Floating Luxuries do have a version for tanning shelves with deeper water up to 16 inches deep – Deep Water Shelf Loungers
Additionally, a few customers have noted that the seat with the hole may be prone to staining. Nevertheless, if your pool setup meets the requirements, these luxurious in-pool chaise lounge chairs are the perfect choice to elevate your summer relaxation experience.
---
Tenjam Shayz In-Pool Lounge Chairs are a top choice for those seeking comfortable and stylish poolside relaxation.
Pros
Supports up to 17″ of water depth with custom risers
Armrest and footrest for added comfort
High-quality, durable materials
Cons
A bit pricey for some budgets
Limited color options are available
May not suit all pool decor styles
Tenjam Shayz In-Pool Lounge Chairs take your pool experience to the next level, providing a convenient and stylish solution for those looking to make the most of their poolside relaxation. These innovative lounge chairs are designed with unique custom risers that can support up to 17 inches of water depth, allowing you to recline in the pool while enjoying a refreshing and cooling dip.
The added armrest and footrest on these in-water pool lounge chairs provide an extra level of comfort you'll appreciate as you unwind and enjoy the summer sun. With their sleek and modern design, these chairs will complement any pool decor while offering a touch of luxury and style.
You can easily store and transport the Tenjam Shayz pool lounge chairs, thanks to their convenient and user-friendly design.
Crafted from high-quality materials, these pool ledge chairs are built to last, ensuring that they can withstand the wear and tear of everyday use. However, some potential drawbacks to consider include the price point and limited color options available.
---
Pros
Ergonomically designed for maximum comfort
Compatible with all pool types and safe for various water depths
Durable and resistant to sun, weather, and chemicals
Cons
May shift positions in the pool due to buoyancy
Filling with water can be slightly challenging
A pillow might be necessary for added comfort
The Aqua Outdoors In-Pool Chaise Lounger set is designed to make your sun shelf more enjoyable and relaxing. Their ergonomic design provides great comfort while you tan on your sun shelf, pool deck, or at the beach.
These in pool lounge chairs for sun shelf are safe to use in saltwater or chlorine pools, vinyl or fiberglass pools, and both commercial and residential pools.
Made in the USA, the chairs have high-quality resin construction that offers superior protection against sun, harsh weather, as well as chemical corrosion and discoloration. This ensures your chairs remain functional and visually appealing for a long time.
However, some users report slight difficulty in filling the chairs with water, and you may need to hold them up while filling. Additionally, due to their buoyancy, the chairs might not stay in place, especially in deeper sun shelf areas or during rain. A pillow might be required for some users to maximize comfort.
---
The Step2 Vero Pool Lounger is a versatile and durable option for those seeking an affordable in-pool lounge chair with a sleek minimalist design.
Pros
Can be used in and out of the pool
Weather-resistant double-walled resin construction
Ergonomically designed for comfort
Cons
May not be suitable for vinyl lined pools
Front floats a little in some cases
Lacks additional features like cup holders
The Step2 Vero Pool Lounger is designed to be used both in the pool on a tanning or wading ledge with up to 9 inches of water or around the outside of the pool. Its sleek and minimalist design not only adds an elegant touch to your pool area but also provides a comfortable and relaxing spot to enjoy the sun.
One of the major benefits of this pool lounger is its durability. Made from weather-resistant double-walled resin and featuring molded-in colors, it is designed to withstand years of use without chipping, fading, cracking, or peeling. This low-maintenance chair is easy to assemble and can be easily wiped clean with water and mild soap.
While this pool lounger offers several benefits, there are a few drawbacks to consider as well. It may not be suitable for use in vinyl lined pools, and some users have reported that the front of the chair floats a little when there's water movement. Additionally, this lounger lacks additional features like cup holders or storage spaces for convenience.
---
Upgrade your pool lounging experience with the Tenjam Moon Chairs, offering ultimate comfort and style for in-pool relaxation.
Pros
Supports up to 12 inches of water depth for in-pool lounging
Armrests provide added comfort
High-quality materials and sturdy construction ensure durability
Cons
May be more expensive than other options
Not suitable for pools with deeper ledges or shelves
Might take up more space due to its unique design
The Tenjam Moon Chair by REZVANI FURNITURE STUDIO is the ultimate in-pool lounge chair designed to take your pool experience to the next level. With the ability to relax, sunbathe, or read your favorite book, this chair has got you covered. Supporting up to 12 inches of water depth, it allows you to enjoy a refreshing and cooling dip while lounging in the pool.
Designed for convenience, the Moon Chairs are easy to store and transport. Whether you want to keep them poolside or in the pool, they are a perfect solution for those who want comfort and style in one package. The armrests provide added comfort, making them the ideal spot to unwind and enjoy the summer.
Made from high-quality materials, these chairs are built to last. The sturdy construction ensures they can withstand the wear and tear of everyday use, while the sleek and modern design complements any pool décor. So why wait? Experience the ultimate in relaxation with the Tenjam Moon Chairs for the pool tanning ledge – the in-pool lounge chair that takes poolside comfort to the next level!
---
Consider the Purple Leaf Patio Chaise Lounge Set if you want a comfortable and stylish outdoor lounging experience with adjustable positions.
Pros
Breathable and UV-resistant Textilene fabric
Weather-resistant powder-coated aluminum frame
4 adjustable positions for versatile reclining options
Cons
Assembly might be challenging for some
Not easily accessible for elderly individuals
Maximum weight capacity of 265 lbs
Cheaper than others but not as durable
The PURPLE LEAF Patio Chaise Lounge Set is a great addition to your outdoor space, offering a comfortable and stylish lounging experience. Designed with high-quality Textilene fabric, these chairs are breathable, UV-resistant, quick-drying, water-repellent, and durable. Enjoy the outdoors while sitting, laying, or sunbathing, thanks to four adjustable positions to suit your preferences.
The weather-resistant powder-coated aluminum frame provides sturdy support with a maximum weight capacity of 265 lbs. This ensures that the lounge chairs are rust-resistant and can withstand various weather conditions. The set also includes a side table, allowing you to enjoy a drink or snack while relaxing outdoors.
On the flip side, some users might find the assembly process challenging due to poorly translated instructions. Additionally, the chairs may not be easily accessible for elderly individuals, as getting in and out might prove difficult. Lastly, with a maximum weight capacity of 265 lbs, these lounge chairs may not be suitable for every body size.
---
Buying Guide
When looking for the best tanning ledge chairs, there are several factors to consider to ensure you make the right choice. This buying guide will help you navigate your options and select a lounge chair that fits your needs and preferences.
First, consider the material of the chair. Durability and weather resistance are essential, as the chair will be exposed to water, sun, and other outdoor elements. Common materials include:
Aluminum: Lightweight, rust-resistant, and low maintenance.
Wicker: Weather-resistant and provides a traditional look.
Plastic: Affordable, lightweight, and low maintenance. Ensure you choose a high-quality plastic to prevent fading and cracking.
Comfort
Comfort is paramount when selecting your in-pool lounge chair. Look for chairs with ergonomic designs and built-in headrests or adjustable reclining options. Additionally, consider if the chair requires cushions or has built-in padding for extra comfort.
Style
The style of the chair should complement your pool environment and overall outdoor aesthetic. There are plenty of design options available, such as modern, minimalist, or traditional, to match your existing decor.
Dimensions
Size is another important factor. Take note of the dimensions of the sun shelf area and chair you are interested in, as it is crucial to ensure the chair fits your space comfortably. The height and weight of the chair also impact its stability in water, so keep that in mind when making your decision.
Durability
Not all pool sun shelf chairs are created equal. Some are very well built and will last for many years while others may be fine for two or three seasons but will then may start to look their age. So chose one of the more durable types as you will save money in the long run.
Maintenance
Finally, don't forget about maintenance. Opt for a lounge chair with easy-to-clean materials and a design that allows for quick water drainage. This will keep your chair looking great and functional for years to come.
By considering these factors and prioritizing your needs, you will be well on your way to finding the best chairs for pool sun shelf to suit your situation.
Frequently Asked Questions
What are the top materials for in-pool lounge chairs?
When choosing an in-pool lounge chair, consider materials such as marine-grade polymer, high-density polyethylene (HDPE) lumber, and durable outdoor fabrics like Sunbrella. These materials can withstand water and harsh pool chemicals while maintaining their appearance.
Which in-pool chairs offer the best durability?
In-pool chairs made of high-density polyethylene (HDPE) lumber and marine-grade polymer are known for their durability. They resist water damage, fading, and corrosion, making them a long-lasting choice for your sun shelf.
How to choose a comfortable lounge chair for a sun shelf?
To find a comfortable lounge chair, look for ergonomically-designed models that support your body's natural curves. Features such as adjustable backs, armrests, and contoured seats can enhance comfort. Don't forget to try out different chairs before making your decision.
What are budget-friendly alternatives for tanning ledge chairs?
If you're on a tight budget, consider resin or plastic Adirondack chairs as an affordable alternative for sun shelf seating. They're lightweight, low-maintenance, and come in various colors to match your pool décor. However, they may not be as durable as more expensive options
Are Adirondack chairs suitable for pool sun shelves?
Yes, Adirondack chairs can be suitable for pool sun shelves, especially those made from weather-resistant materials like HDPE lumber or marine-grade polymer. Ensure that the chair's dimensions fit your sun shelf's depth and surface area.
How to maintain in-pool furniture for longevity?
To prolong the life of your in-pool furniture, clean it regularly using gentle soap and water. Avoid harsh chemicals or abrasive scrubbing pads, as these can damage the surface. Properly store your chairs during the off-season or protect them with covers to minimize exposure to the elements. Follow the manufacturer's guidelines for additional maintenance tips.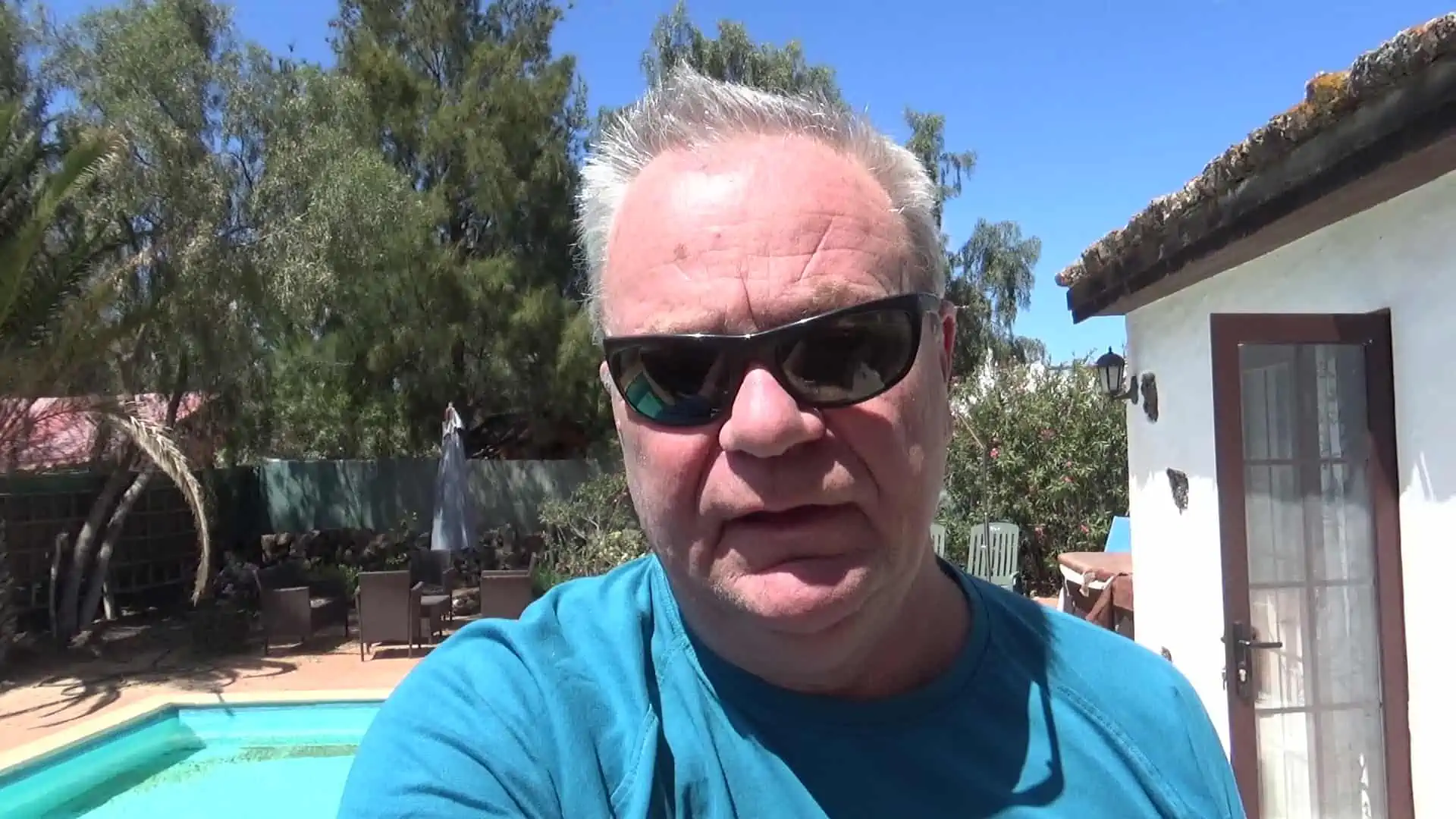 I have had hot tubs for over 20 years and a pool for the last 10 years. I had to learn how to clean, maintain and fix them the hard way. Since then I have helped many friends and neighbors with their pools and now I want to share everything I have learned with you. About Me