As the chill of winter approaches and swimming becomes a distant summer memory, safeguarding your above-ground pool becomes paramount.
Above ground pool covers for winter are not just a luxury; they are a necessity. They protect your pool from debris, harsh weather conditions, and the wear and tear of winter, ensuring that when the sun shines again, your pool is ready for action.
But with a plethora of options available in the market, how do you choose the right one? No matter if you are a first-time buyer or looking to upgrade, this guide is tailored to help you navigate the sea of choices and find the best above-ground winter pool cover that suits your needs and budget.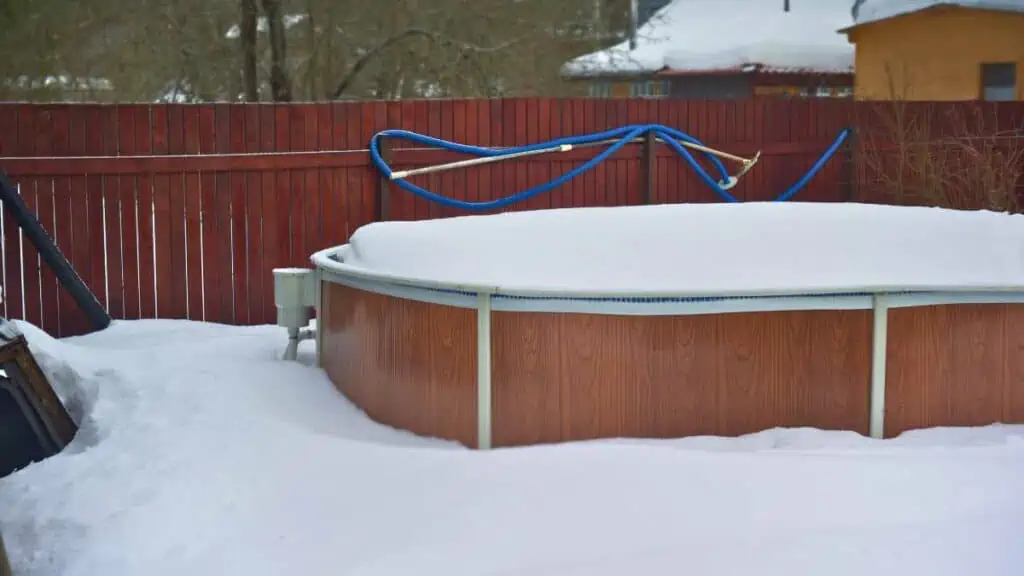 Best Above Ground Winter Pool Covers
If you're looking to protect your above ground pool during the cold months, below is our list of the best above ground winter pool covers for your convenience.
NOTE: All of the following are available in many different sizes to suit all pools and also available for different-shaped pools.
This 28 ft round pool cover, part of Yankee Pool Pillow's Sapphire Series, is designed to be extra thick and super durable, with a 14 x 14 scrim count and 185 gsm density. The patent-pending sealing technology ensures that dirt doesn't pass through the seams, keeping your pool water clean and uncontaminated throughout the winter.
The cover's LDPE coating has been tested to withstand solar UV radiation, making it resistant to damage caused by winter sunlight. Additionally, its black underside prevents water overgrowth by blocking sunlight penetration. The cover is also designed to withstand extreme temperatures, from -10°F up to 180°F, making it suitable for various climates.
The Yankee Pool Pillow 28 ft Round Pool Cover comes with a generous 4-foot overlap making winterization easier for you. However, some users have reported durability issues after only one season of use or experiencing issues with the rivets coming off. It's essential to inspect the cover regularly for any signs of damage, as you should with any cover actually.
---
The In The Swim Ultimate 3000 Winter Pool Cover is designed with Armorkote on each side, enhancing durability and preventing wear and tear. This cover is a great choice for pool owners who want to avoid constantly replacing covers, owing to its robust construction.
Featuring a 6-inch reinforced Enviro-Mesh drain panel, this cover effortlessly allows rainwater and snow to pass through while keeping out dirt, debris, and other contaminants. This unique design eliminates the need to pump water off the cover, rendering it both time-saving and cost-effective.
Additionally, the heavy-gauge reinforced grommets, 3-layer perimeter binding, and 4ft overlap contribute to a snug fit, ensuring that the cover stays in place during high winds and stormy conditions.
With a 12-year warranty, the In The Swim Ultimate 3000 Winter Pool Cover provides above ground pool owners with peace of mind and comfortable protection throughout the winter season.
---
The Robelle Super Winter Pool Cover is a heavy-duty pool cover designed to protect your traditional above-ground pool from harsh winter elements. With its solid, water-resistant material and heavy-duty 8×8 scrim, this cover provides both strength and durability – ensuring your pool stays protected throughout the off-season.
One of the standout features of this cover is the 4-foot overlap, which makes installation easier and allows the cover to float on the pool water without excessive stress. However, if you have a very large top rail, you might want to consider a larger pool size to ensure a proper fit.
This pool cover comes with a winch and cable, which should be used to secure it through the grommets placed around the perimeter of the cover. Keep in mind that for extra securing, cover clips and cover wrap (both sold separately) are suggested for pool closing.
---
The Blue Wave Bronze Winter Pool Cover is designed to keep your above-ground pool protected during harsh winter conditions. Made from rugged polyethylene scrim and coating, this cover can withstand sunlight, snow, and wind, ensuring a long lifespan.
Installation is made easy with the heavy-duty cable and winch tightener system, which anchors the cover to your pool using rip-proof metal grommets. A four-foot overlap ensures a proper fit for your pool, while the dark navy blue color with a black underside adds style and prevents algae growth.
On the other hand, some users have experienced difficulties with the cable and winch system, finding it challenging to tighten properly. Additionally, the cover's thinner material raises concerns about its long-term durability. Lastly, there may be fitting issues around the skimmer mounting, which could allow wind to lift the cover.
---
The Pool Mate Sandstone Round Winter Pool Cover is designed to keep your above ground pool safe and clean throughout the winter. This cover is made from a heavy-duty polyethylene material that won't let water pass through, ensuring your pool stays crystal clear while it's not in use. With a 4-foot overlap, it provides a generous amount of extra material for ease of installation.
This winter pool cover also comes with a winch and cable, which are necessary for securing it to your pool's grommets. The secure fit ensures that the cover stays in place even during windy or stormy weather.
However, it's worth noting that some users have reported issues with the cable breaking under the weight of heavy snow. To avoid this issue, it may be beneficial to clear the snow off the cover regularly throughout the winter season (which is a good idea with any cover).
While the overall performance of the cover is impressive, there have been a few concerns regarding the material's durability. Some users have found the cover to be thinner than expected and questioned its ability to withstand multiple seasons of use. That being said, the cost and warranty provided by Pool Mate are excellent, making it a viable option for those seeking an affordable yet reliable winter pool cover.
---
Other Things You May Need
Pool Pillow
An above-ground pool winter cover pool pillow, often simply referred to as an "air pillow" or "pool pillow," serves several essential functions when winterizing your above-ground pool.
Ice Expansion Buffer: One of the main reasons to use a pool pillow is to compensate for the expansion of ice. When the water in the pool freezes, it expands. The pillow acts as a buffer, ensuring that the expanding ice pushes in on the pillow rather than exerting pressure on the pool walls, which could potentially damage them.
Preventing Water and Debris Accumulation: The pool pillow can create a slight incline on the winter cover. This means that water, snow, and debris will tend to slide off the cover's edges rather than accumulate in the center. This makes it easier to clean and remove the cover when it's time to open the pool.
Protecting the Pool Cover: By preventing water and debris accumulation, the pool pillow also reduces the weight and strain on the pool cover, potentially extending its lifespan.
Easier Spring Cleaning: With less debris and water collected on the cover, opening your pool in the spring becomes a less cumbersome task. The cover will be easier to clean, dry, and store.
There are many available. One of the most popular on Amazon is the Aquabeacon 4′ X 4′ Pool Pillow shown above.
Winterizer Pool Pill
These are designed to just be thrown into the pool before you cover it to simplify the pool winterizing process. They contain a concentrated blend of enzymes, clarifiers, and other chemicals that help maintain water quality during the off-season.
The most popular is the SeaKlear AquaPill AP71 WinterPill which is available on Amazon. It has a clarifier to maintain sparkling clean water, a scale inhibitor to prevent scale build- up on surfaces, and a stain inhibitor to prevent iron, copper and manganese stains.
Swimming Pool Cover Pump
These are designed to automatically pump off water as it accumulates on your winter pool cover. By efficiently removing this excess water, the winter cover pump helps maintain the integrity of the pool cover, ensures a smoother pool opening process in the spring, and provides an added layer of safety during the off-season.
A popular model is the Acquaer 1/4 HP Automatic Swimming Pool Cover Pump below.
Pool Cover Buying Guide
When you're looking to purchase one of the best above ground winter pool covers, there are several factors to consider. This buying guide will help you make an informed decision, ensuring you choose a product that suits your needs.
Material
Firstly, consider the material of the pool cover. Look for one made from high-quality and durable materials, such as polyethylene or vinyl. These are resistant to harsh weather conditions and can help prevent debris, dirt, and algae growth.
Size and Shape
Make sure to measure your pool accurately and choose a cover that fits its size and shape perfectly. This will provide optimal protection and prevent water from seeping through the sides. Keep in mind that some covers may require additional space to accommodate anchors or tie-down straps.
Safety
If you have children or pets, safety should be a top priority. Look for covers with a safety rating, designed to support weight, and prevent accidental falls into the pool. Additionally, search for covers with tight seals and secure fastening mechanisms to minimize drowning risks.
Ease of Installation and Removal
Whether you have an in-ground or above-ground pool, find a cover that's easy to install and remove. Some pool covers come with installation kits that make the job easier, while others may require professional help. Furthermore, covers that are lightweight and manageable will make removal less cumbersome.
Warranty
Finally, consider the warranty offered on the pool cover. A good warranty indicates that the manufacturer is confident in their product and is willing to stand behind it. This can give you peace of mind, knowing that you're making a worthwhile investment.
By taking these factors into account, you can choose the best winter pool cover that meets your needs and ensures the protection of your pool during the cold months.
Also Read: How to Winterize an Above Ground Pool