What length pool vacuum hose is going to be best for your pool when vacuuming is a pretty easy question to answer.
A pool vacuum hose should be long enough to reach the farthest corner of your pool from your skimmer or vacuum port plus an allowance for the depth at that point. So if the furthest point away from the skimmer port is 25 ft, and the depth is 6 ft at that point, then the hose should be at least 31ft long.
That way you will have no problems with one end pulling out of the skimmer port or off of the vacuum head or with the pool vacuum hose twisting or coiling.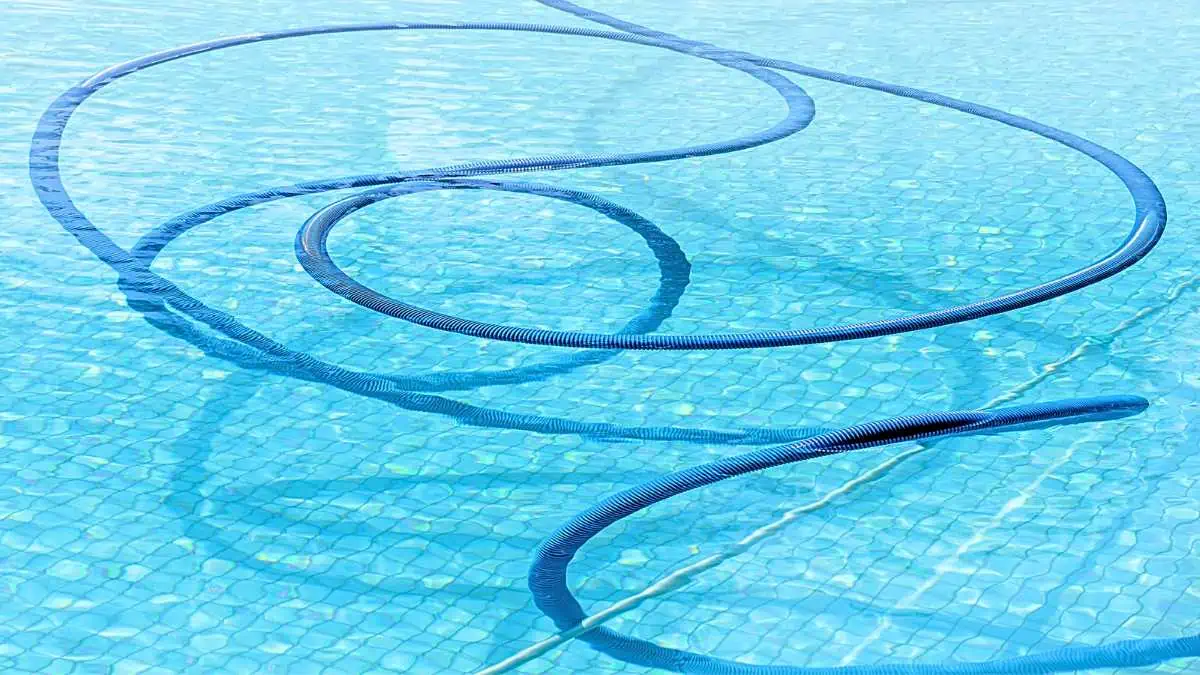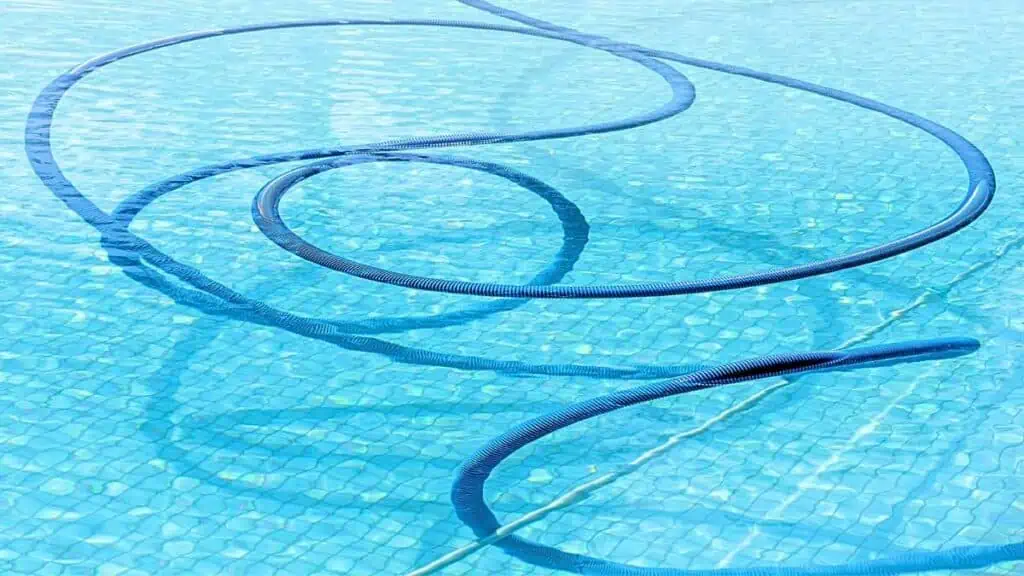 When I first bought my house with a pool I inherited the previous owner's pool cleaning equipment. The pool vacuum hose was just long enough to stretch to the far corner of the pool, and I mean stretch to get right into the far bottom corner.
More than once I was vacuuming in the furthest corner and wondered why the vacuum head seemed to no longer be picking up the dirt. Then, when I looked at the skimmer, the end of the hose had pulled out of the skimmer port and was floating out of the skimmer.
How long should your vacuum hose be?
It is quite easy to work out the best pool vacuum hose size for your particular pool and it is the same for both in ground and above ground pool hoses.
You need to measure the distance between the skimmer port, or the vacuum port if you have one, that you will connect the hose to and the furthest corner from that point. Then add the depth of water at that point.


So if your skimmer is 25 feet from the furthest corner, and the pool is 4 feet deep at that point, you will need a pool vacuum hose that is 29 feet long. That is the minimum pool hose length you need.
You will probably have to buy one a bit longer as most pool hose sizes come in standard lengths. In this example, a 30 foot long vacuum hose would probably be the best option. A 25 feet pool vacuum hose would be too short.
Can a pool vacuum hose be too long?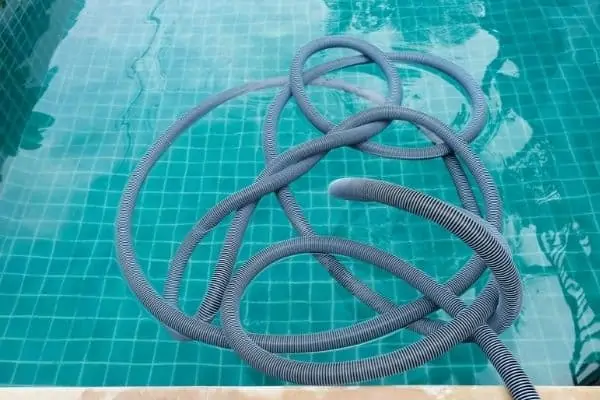 It is easy to think that a very long pool vacuum hose, longer than necessary, would be a good thing as then you will be able to reach everywhere easily. But that isn't necessarily correct as having too much hose can often lead to problems with the vacuum hose getting coiled and twisted which will make vacuuming more difficult as you will need to stop and untwist it to get rid of the coils.
What type of pool vacuum hose to buy
Adjustable Length Pool Valve Hoses
This is the type I use these days. Basically, the hose comes in lengths ranging from 36 inches to 50 inches long that you push together to make the length you need. One of the beauties of these is that if one section gets damaged you can just replace it without needing to replace the entire hose. There are two popular ones:
Zodiac Pool Systems R0527800 Cleaner Hose

This hose comes in 12 sections of 50 inches so making a total pool hose length of 50 feet. Good quality but quite expensive. The Zodiac Pool Systems R0527800 Cleaner Hose is available on Amazon
Poolwhale Vacuum Hose/Replacement Pool Hose
This pack includes 8 hoses of 36 inches so makes a total pool hose length of 24 feet. You may need to buy two packs for a larger pool.
The Poolwhale Vacuum Hose/Replacement Pool Hose is available on Amazon.
Fixed Length Pool Vacuum Hoses
These come in various standard pool hose size from 18 feet (the shortest I think I have seen) all the way up to 100 feet. They are the most commonly used type of vacuum hose.
You just need to work out the minimum length hose you need (see the above section) and buy the one that is that length or a bit longer if none are the actual size you need are available.
One of the most popular vacuum hoses is the Poolmaster series. They come in lengths from 30 feet up to 50 feet in increments of 5 feet.
They are available in various pool vacuum hose sizes on Amazon – Poolmaster 33430 Heavy Duty In-Ground Pool Vacuum Hose With Swivel Cuff
Spiral Wound Pool Vacuum Hoses
I went to a local pool supply company to buy a new vacuum hose a few years ago. They suggested I buy a "Spiral Wound" hose which is basically a pool hose with a spiral reinforcement that winds around the plastic hose. Because of this, they had hundreds of feet of it on a large drum and they could cut off the exact length I wanted, rather than buying one in a standard length which may have been longer than I wanted.
That sounded like a great idea so I bought one and they also supplied the two ends (cuffs) which screwed onto the hose as they were threaded to match the spiral. It worked great for that season but by next spring the plastic between the spirals started to break down and leak.
Now this may have just been a problem with this particular manufacturer's hose (I can't remember which it was) or even just a bad batch but I wouldn't have one again.
Pool Care Handbook and Video Course
When I bought my house with a swimming pool, I knew absolutely nothing about pool care. I just winged it for a while, making many mistakes along the way.
Fortunately, I was recommended Swim University's Pool Care Handbook and Video Course. I bought it and it was an absolute game-changer.
It was the best money I spent that year. I learned everything from basic cleaning to advanced troubleshooting. Swim University offers a no-quibble refund policy too so what do you have to lose?
My top 3 pool cleaning tools
These are the pool cleaning tools I have found the most useful since I have had my pool.
Step and corner vacuum brush
This is a really useful tool for getting into the areas that a standard vacuum head simply cannot reach. Aquatix Pro Pool Step & Corner Vacuum Brush
Leaf rake net
If, like me, you get plenty of leaves at the bottom of your pool then a good leaf rake/net is a must. The Stargoods Pool Skimmer Net gets under the leaves easily.
Robotic pool cleaner
These are quite expensive and it was a number of years before I bit the bullet and bought one. I have never regretted it. The Dolphin Nautilus CC Plus is the most recommended pool cleaning robot on all of the pool forums. It not only cleans the bottom of the pool but also the sides and the waterline.
Related articles
How to remove air from a pool vacuum hose
Essential Pool cleaning equipment guide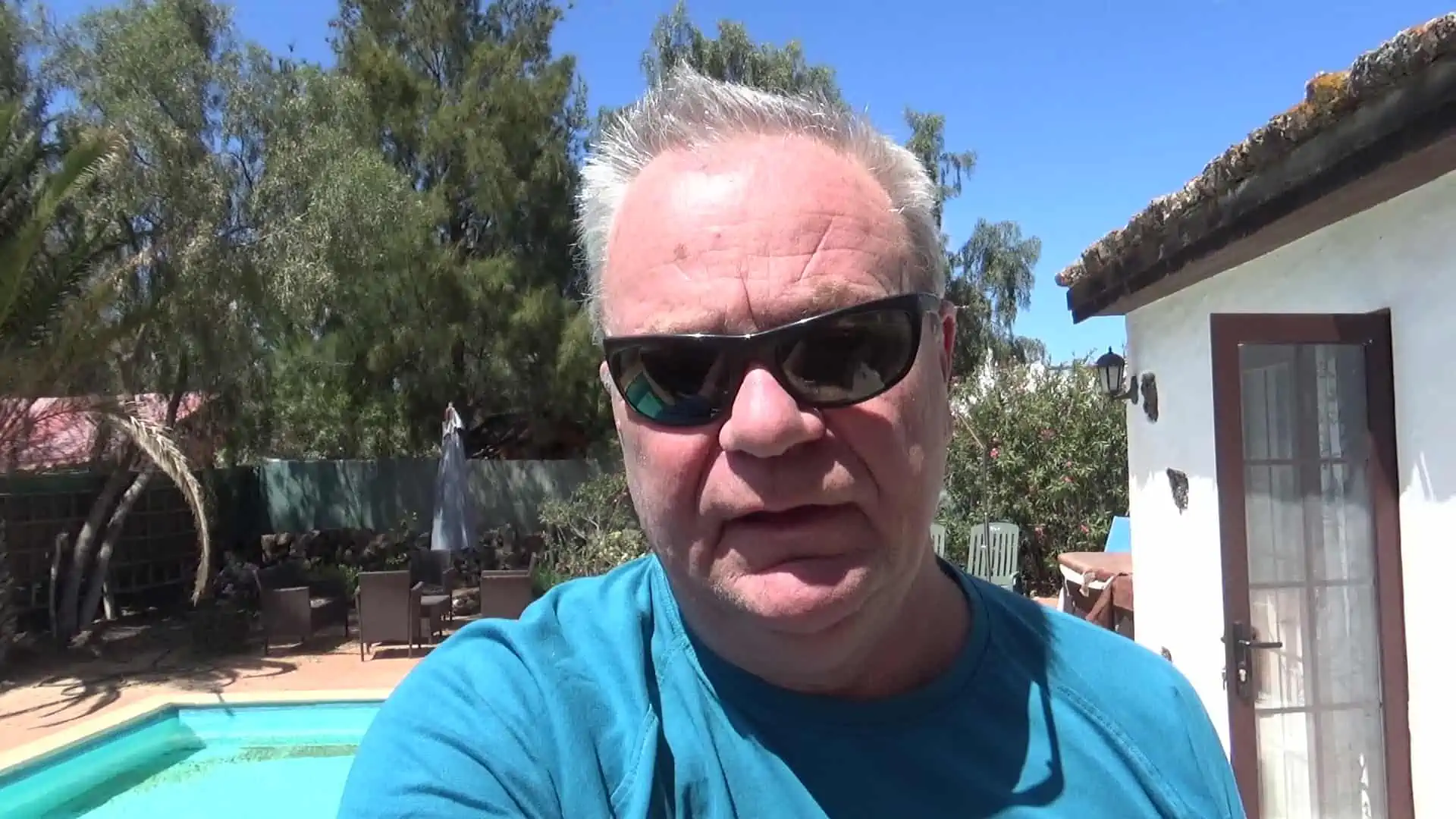 I have had hot tubs for over 20 years and a pool for the last 10 years. I had to learn how to clean, maintain and fix them the hard way. Since then I have helped many friends and neighbors with their pools and now I want to share everything I have learned with you. About Me