Having pool lighting can certainly enhance your pool experience and allow you to make the most of having a swimming pool. But some pool owners will make much greater use of pool lights than others will.
Pool lights can extend the amount of time you use your pool by allowing you to swim into the evening or even at night. They are great to have when you are hosting a pool party as they can make your pool area look very smart.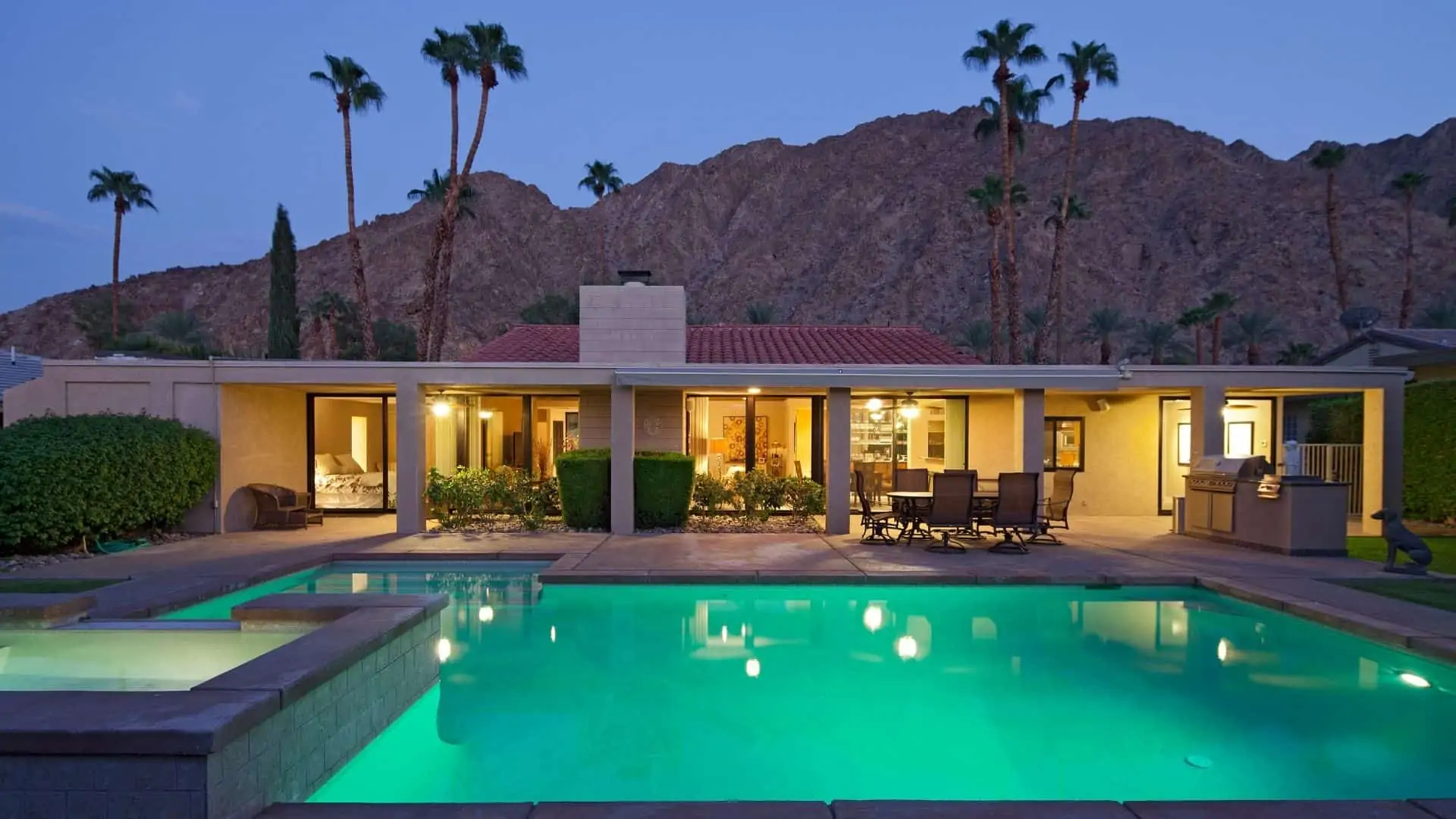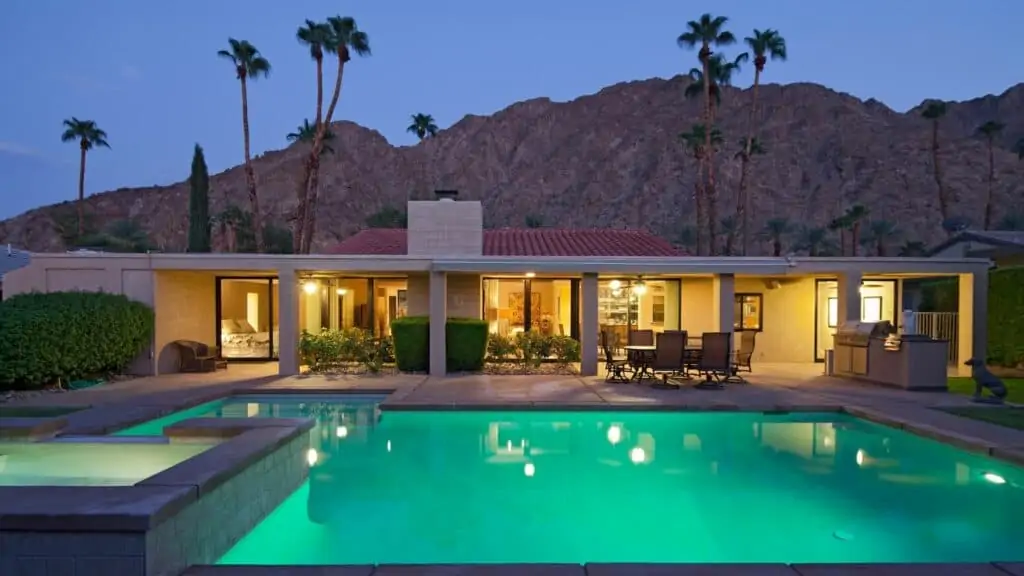 Are pool lights worth having?
Many pool owners wouldn't be without their pool lights while others rarely, if ever, use them. Most pool owners with an inground pool tend to have pool lights put in during the installation but generally that is not the case for above ground pools.
I must say I fall into the latter group as I think in 8 years I have only actually switched mine on 6 times and then just to show visitors to our house. If I swim late at night in the summer to cool off then I prefer to do it in the dark so I can float on my back and look at the stars, which would be harder to see with my pool's LED lights on.
How much use you may make of pool lighting during the swimming season depends on a number of factors:
The evening temperature where you live
If you live somewhere that has very hot evenings then you will probably feel the need to take a cooling plunge in your pool when it is dark. In that case you may make good use of your pool lights.
The time it gets dark where you live
If you live in a more southerly latitude nearer the tropics (or northerly in the southern hemisphere) then it will get dark earlier during the swimming than in more northern latitudes.
For example:
| | | |
| --- | --- | --- |
| June 22 2022 | Sunset | Dark |
| Florida | 17:43 | 21:13 |
| North Dakota | 21:41 | 23:15 |
The time for it to be dark I have used the figure for Astronomical Twilight
Clearly, if you live in Florida you are likely to use your pool lights much more frequently than if you live in North Dakota.
If you have children
It is hard to keep children out of a pool at times so if you have children then having pool lights is going to make them love using the pool even more. Naturally you need to supervise them as you would during the day.
You host lots of pool parties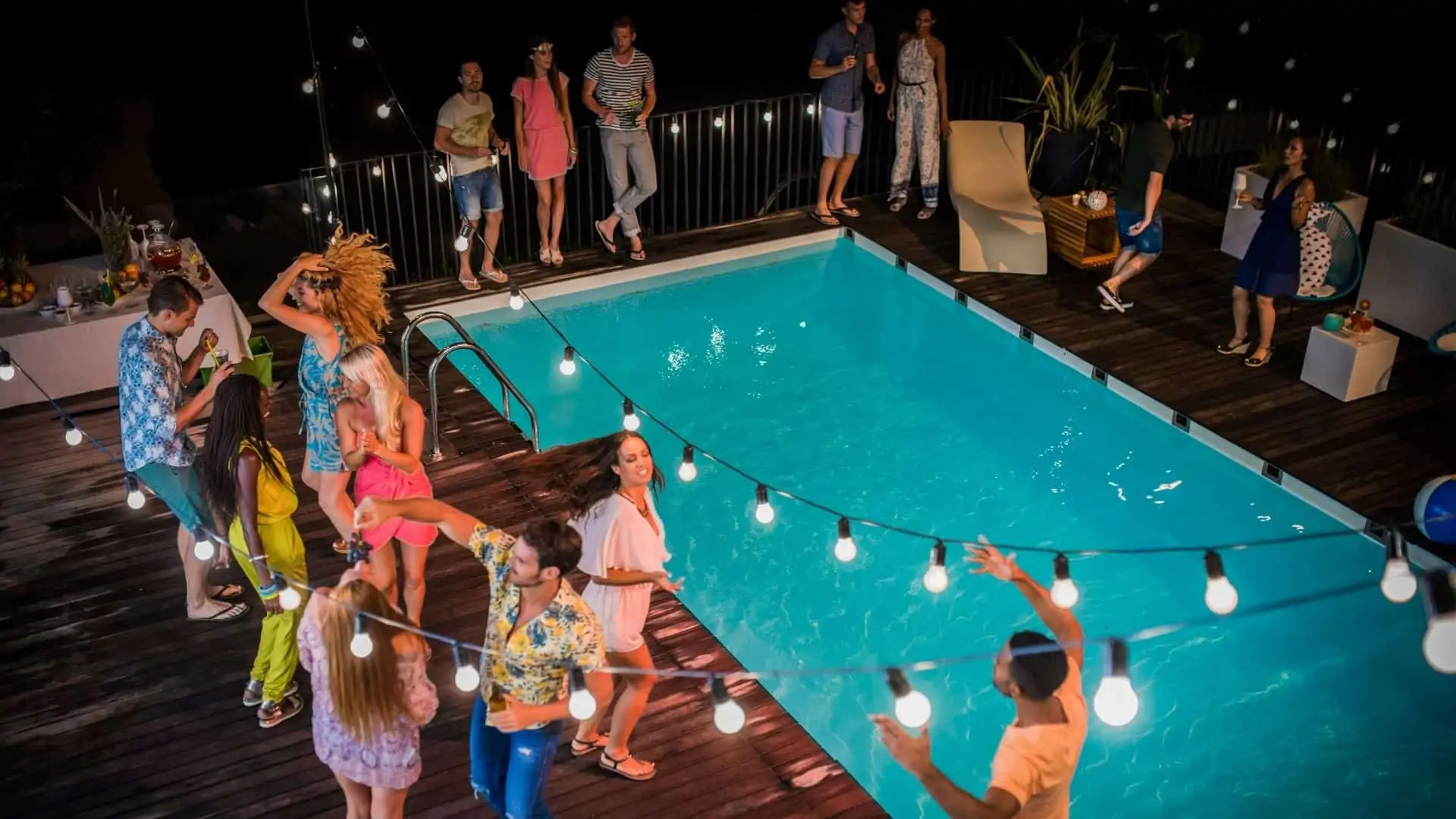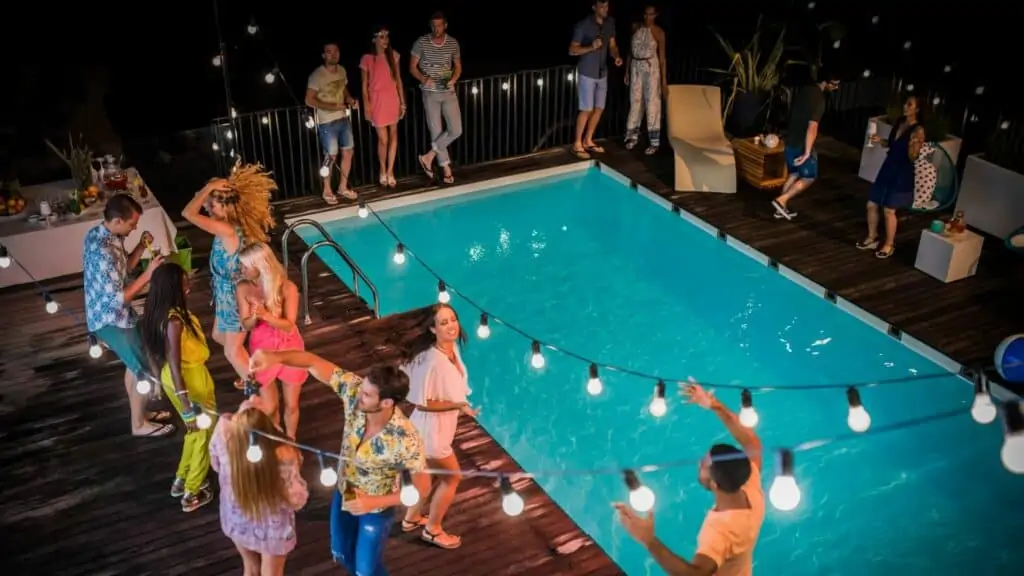 If you invite lots of friends and family over to use your pool in the evenings and for special occasions then clearly you will get a great benefit from not only having pool lights but also other pool lighting options such as landscape lights and even floating lights.
If these are energy-efficient LEDs then so much the better.
Safety
There are two safety reasons that having pool lighting both in and around your swimming pool:
The first reason is obvious really as if you and your children are going to use your pool at night then having pool lights illuminate the area so you can see properly will go a long way to preventing accidents from occuring.
If you are in an area that can attract potentially dangerous animals, such as snakes or aligators, then the last thing you want is to jump in and find you you have a possible lethal swimming partner. By lighting up your pool you will be able to see at a glance that the pool doesn't contain any unwanted guests – or if it does to remove them safely.
Neighbor envy
Any neighbors that don't have a pool but who have sight of your swimming pool area from their homes will be particularly envious when they see your pool lighting switched on at night. Having pool illumination enhancing your swimming pool area sets the mood and provides a really lovely ambiance.
Pool maintenance
If you do your own pool maintenance but struggle to get home from work during the week before it gets dark then having pool lights to light up your pool will enable you to carry out pool cleaning, such as vacuuming dirt from the bottom, after you get home.
Actually pool lights show up the dirt at the bottom very well so it can be even easier to ensure you clean properly than doing it during the day.
LED lights vs incandescent lighting
If you are building a swimming pool, or replacing the existing lights in your pool, then the obvious way to go is with LED pool lights which are without doubt the best pool lights to have, particularly in today's drive for energy efficiency.
Incandescent lights are basically standard bulbs that produce light when electricity passes through a filament but they also produce a great deal of heat too which is why they have lower efficiency. Actually, finding incandescent lights is becoming increasingly difficult anyway so you may have little option.
The benefits of LED pool lights are that they are much more energy-efficient so they will cut down your electricity bill, particularly if you use them a lot. LED pool lighting will use approximately 80-85% less energy than the equivalent incandescent lighting to give the same brightness.
The disadvantage of LED pool lighting is that a replacement LED pool light bulb generally cost much more than an incandescent pool light bulb. But you will save money over time and recoup the extra outlay with your lower energy bills due to their lower power needs and energy efficiency.
If you already have pool lighting with incandescent lights then you can normally buy compatible LED pool light bulbs which makes it an easy switch. You can change the incandescent bulbs for regular white LED lights, colored LED lights or even color changing LED pool lighting.
Types of LED pool light
Firstly there are three types of LED bulbs used in swimming pool lighting. All use similar amounts of electricity:
Regular white LED light
Allisable 50W LED Pool Light Bulbs are available on Amazon and will replace many types of standard incandescent pool bulbs.
Colored LED light
XIUBE 12V 36W LED Pool Bulbs (see picture below) are available on Amazon and come in blue or green versions to fit many types of pool light housing. They also come in 120v versions.
Color changing LED pool light
Life-Bulb LED Color Change Pool Light Bulbs (see picture below) are available on Amazon and come with a remote control so you can change the light colors or select one of its automatic color change modes. They will replace many screw-in light bulbs used in pools. There are 7 colors and 12 modes.
Above ground LED pool lights
Most lights used in above ground pools are not built-in but are added after installation. Some such as the Nitelighter LED Pool Light (see picture below) run from a low voltage transformer and fit under the top ledge.
Others are rechargeable so need to be removed from time to time to recharge them. Since LED lights use little power this is not generally necessarily too frequent. The VIDOME Rechargeable Pool Lights For Above Ground Pools (see picture below) last for between 25-100 hours of use between charges, they are multicolored and come with a remote control.
These could also be used in a residential inground pool or even as spa lights.
LED floating pool lights
Floating pool lights are very effective and look great for a pool party or even a party that takes place around the pool rather than in it. LOFTEK LED Dimmable Floating Ball Pool Lights (see picture below) are very popular on Amazon and can be set to different colors using a remote control.
Pool Care Handbook and Video Course
When I bought my house with a swimming pool, I knew absolutely nothing about pool care. I just winged it for a while, making many mistakes along the way.
Fortunately, I was recommended Swim University's Pool Care Handbook and Video Course. I bought it and it was an absolute game-changer.
It was the best money I spent that year. I learned everything from basic cleaning to advanced troubleshooting. Swim University offers a no-quibble refund policy too so what do you have to lose?
FAQs
How many lumens do you need to light a pool?
LED lights for pools should be in the range of 200-400 lumens each. How many you need depends on the size and shape of your pool and also whether it is an inground pool or an above ground pool. Basically your pool light installation needs sufficient lights to illuminate the whole pool without any dark areas.
Are pool lights safe?
Swimming pool lights are designed to be waterproof and should be installed by a licensed electrician so they should always be safe. Many new LED lights operate on a low voltage making them particularly safe.
Are pool light bulbs special?
A swimming pool light bulb, either LED or incandescent, is not particularly special generally. It is the housing that is special as it is designed to be waterproof, for obvious reasons.
How long do LED pool lights last
Manufacturers often claim that LED lights will last for 25 years or between 50,000-100,000 hours. Since they haven't been around for that long it is hard to say if that is true or not.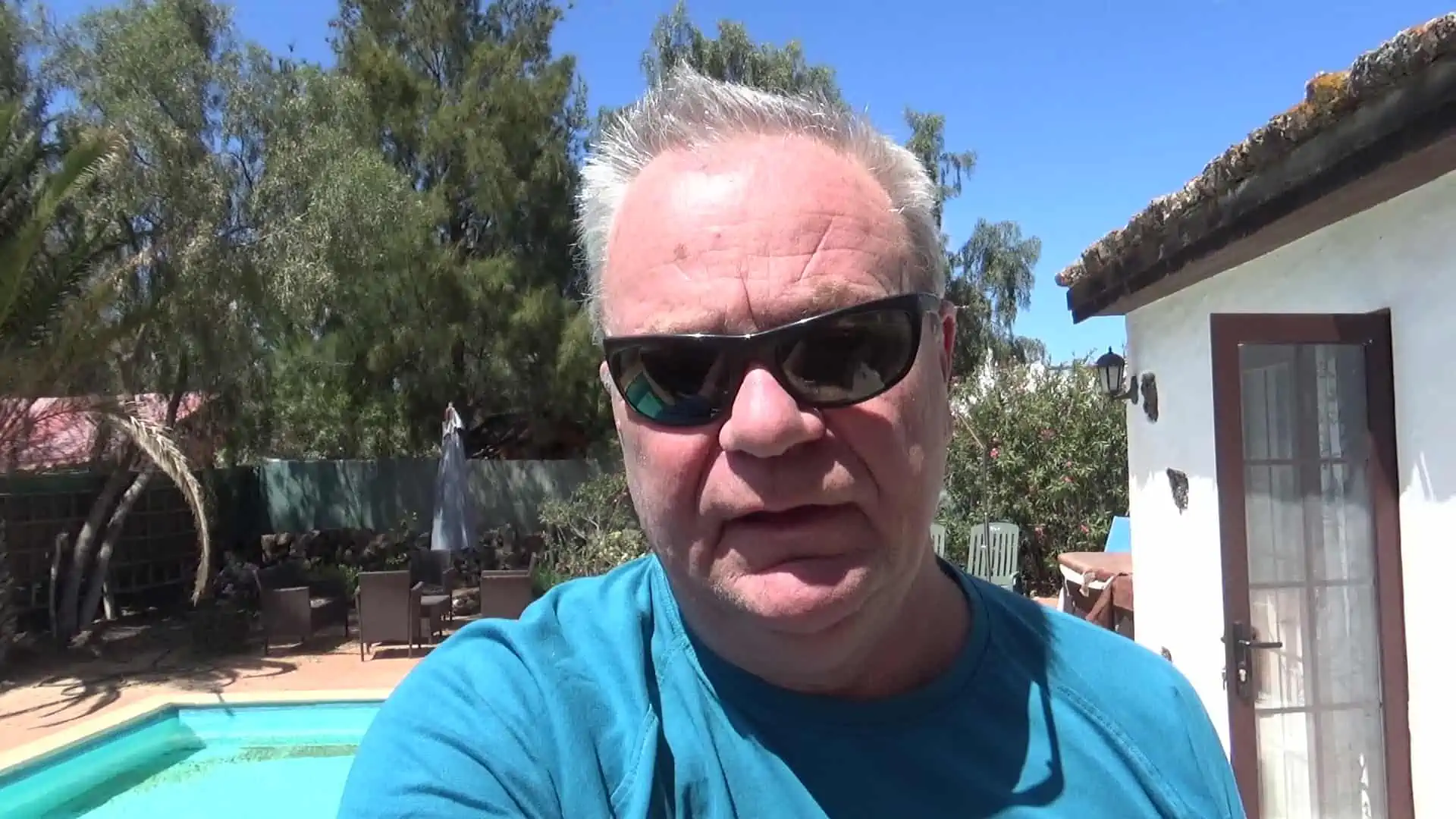 I have had hot tubs for over 20 years and a pool for the last 10 years. I had to learn how to clean, maintain and fix them the hard way. Since then I have helped many friends and neighbors with their pools and now I want to share everything I have learned with you. About Me