To maintain the cleanliness and safety of your pool, it's essential to invest in an effective cleaning solution. Robotic pool cleaners offer an efficient and hassle-free approach to maintaining your pool, ensuring that it remains in pristine condition for enjoyment.
Unlike traditional cleaning methods that require manual labor or the use of suction and pressure cleaners, robotic pool cleaners navigate the pool autonomously, scrubbing and vacuuming debris from the water and pool surfaces.
This innovative technology not only saves time and effort but also enhances the overall cleanliness of the pool, leaving it crystal clear and inviting.
In this article, we carefully analyze the merits of robotic pool cleaners and provide you with a comprehensive guide to finding the perfect cleaner for your requirements.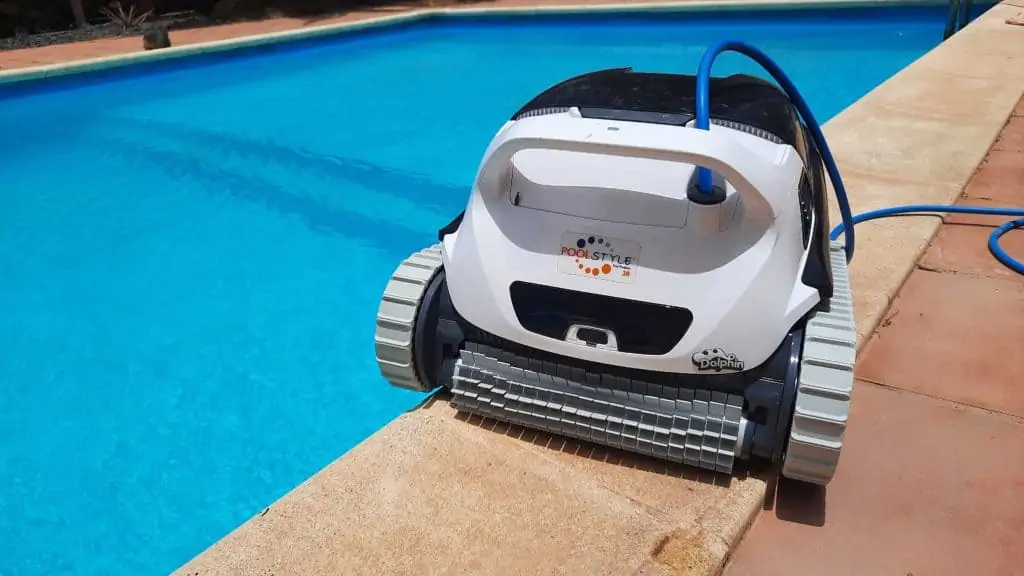 So, Are Robotic Pool Cleaners Worth It?
After resisting for a number of years I finally bit the bullet and bought a Dolphin robotic pool cleaner 3 years ago. Have I regretted it? Not one bit.
I have saved many hundreds of hours of tedious cleaning in the last three seasons.
Now I don't have to stop what I am doing for an hour or so when my wife says "Can you clean the pool as I want to have a swim this afternoon" I can just dump Robbie into the pool and switch him on (by the way, everyone seems to give their robot a name).
I have three neighbors who have bought a robotic pool cleaner after coming around and watching mine at work.
I am an active member of a number of Facebook pool cleaning groups and the question of whether to buy a pool cleaning robot comes up very often. I am yet to see anyone have anything negative to say about getting one.
Everyone seems to love theirs.
Of course, a pool robot cannot do everything. For example:
There are still times when I need to manually clean. For example, when I open my pool I always manually vacuum to waste as there would be too much dust etc for Robbie to cope with.
Also, in the rare times when I have an algae attack, after I have killed it I need to vacuum to waste manually to remove the algae dust. This is because the dead algae are so fine and light that the movement in the water that the robot creates pushes it away from it without being collected.
Although they can climb steps in a pool they are not generally that good at cleaning them
Apart from this, and using a pool net to remove any large quantities of leaves that may end up at the bottom of the pool after a storm, I almost never manually clean anymore.
Best Robotic Pool Cleaners
Now, full disclosure. I haven't used or tested every robotic pool cleaner on the market, or anything close to it.
The following robotic pool cleaning recommendations are based on my experience, my friends and neighbors and the consensus of those in the various pool cleaning forums/groups.
Quick Top Picks
---
Best All-Round Robotic Pool Cleaner
The Dolphin Nautilus CC Plus is easily the most recommended on the various pool cleaning forums. It is a reliable cleaner that offers top-notch performance and hassle-free maintenance.
I have two friends in the US who have them and both kick themselves for not buying one sooner (much like myself).
Pros
Efficient wall-climbing and CleverClean smart navigation system
Easy-to-maintain top-load filters
Plug-and-play system for convenient usage
Cons
Some users report difficulties with fine dirt filtration
Lacks advanced AI and sensors for precise cleaning direction
Heavier compared to other models
One of the most impressive things about the Dolphin Nautilus CC Plus is its wall-climbing and waterline scrubbing abilities. Watching it climb the walls and pop its head out is actually quite fun to watch. My dogs took a while to get used to that with my Dolphin before they stopped barking at it.
The CleverClean smart navigation system scans the pool bottom to cover every inch, effectively taking the hassle out of pool maintenance. You also have the option of wifi control via an app.
The top-load filters are not only powerful but also easily accessible, making maintenance a breeze. Debris is captured efficiently by well-designed filtering technology, leaving the pool sparkling clean. The plug-and-play system of this robotic pool cleaner means all you have to do is plug it in and drop it into the pool.
In just two hours, the Dolphin Nautilus CC Plus actively cleans your pool floor and walls using dual brushes. These brushes are tough on dirt but gentle on your pool surface. With over 35 years of experience, Dolphin delivers unmatched performance and durability, giving you more time to enjoy your pool with friends and family.
---
Great for Leaf Collection
If you are looking for a reliable and efficient robotic pool cleaner, the Dolphin Premier is an excellent choice that simplifies pool maintenance and delivers impressive results.
Pros
Easy to use and efficient cleaning
Advanced algorithms for complete pool coverage
Multiple filter options for various cleaning needs
Cons
May struggle with some pool shapes
Higher price point compared to other models
Filter cleaning might be tedious for some users
Using the Dolphin Premier Robotic Pool Cleaner truly feels like a breeze. Just plug it in, press the button, and let it do its job. It's perfect for in-ground pools up to 50 feet and is backed by a 3-year quality assurance guarantee. Its anti-tangle swivel cable ensures smooth maneuvering, making it easy for the cleaner to move around your pool efficiently.
The powerful dual scrubbing brushes provide an exceptional clean, tackling tough dirt and debris on your pool floor, walls, and waterline in just three hours. The cleaner's CleverClean technology delivers a smart and efficient cleaning process using advanced algorithms for thorough pool coverage.
The Premier comes with a variety of filters, from fine cartridge filters to an oversized fine filter bag, so you can choose the optimal filter for your pool's needs. It also has an oversized leaf bag so it is excellent if you have any overhanging trees that drop leaves in your pool.
The Dolphin Premier's convenient weekly scheduler allows you to set the cleaner to automatically clean your pool every day, every other day, or every third day. The full filter indicator makes it easy to know when it's time to clean or replace your filters.
---
Good for Above Ground Pools
The AIPER Seagull SE Cordless Robotic Pool Cleaner is a strong contender for those seeking a very affordable, user-friendly and efficient pool maintenance solution.
Pros
Wireless and safe cleaning
Dual-drive motors with suction power
Self-parking technology
Cons
Not ideal for pools with varying depths
Filter may be difficult to clean
May not handle large debris effectively
The AIPER Cordless Robotic Pool Cleaner impressed me with its 100% cord-free design and dual-drive motors, which not only provide powerful suction but also prevent cord entanglement and power short-outs.
The cleaner lasts up to 90 minutes, making it perfect for above-ground pools (up to 33′ diameter) and in-ground flat-bottom pools (with only one depth, up to 40′ x 20′).
Additionally, the self-parking technology is a plus point. When the battery runs low or after completing a working cycle, the cleaner stops near the pool wall, allowing for easy and convenient retrieval using the included hook.
Although the AIPER cleaner offers several benefits, it may not be perfect for all pool types, especially those with varying depths. Moreover, the filter may be a bit difficult to clean, and it may not handle large debris effectively. This cleaner does not climb and scrub walls or the waterline.
---
Best for above ground pools
An easy-to-use and efficient pool cleaner that can handle a variety of pools and materials, the Dolphin Escape Robotic Pool Cleaner is a smart investment. Budget-friendly and packed with features, this cleaner will keep your pool looking its best throughout the season.

For above ground or in-ground pools
up to 33ft
Pros
Efficient cleaning for various pool shapes and materials
Large debris cartridge for fewer cleanings
Easy to handle at a lightweight 14 lbs
Cons
Cord may tangle due to lack of a swivel
Cord length could be insufficient for some pools
The Dolphin Escape Robotic Pool Cleaner offers unparalleled performance at an affordable price point. Whether you have a vinyl, fiberglass, or gunite pool, this cleaner is the perfect solution. Forget about dealing with messy bags, the Escape's HyperBrush Scrubbing Brush and oversized debris cartridge work together to eliminate difficult contaminants, algae, and debris.
Another highlight of the Dolphin Escape is its HyperGrip Continuous Tracks, which ensure an energy-efficient and thorough cleaning. Its advanced SmartNav 2.0 Robotic Scanning technology also guarantees an optimized cleaning path without any obstacles. With this pool cleaner, you can be sure that your pool will be looking pristine.
Despite its many positives, the Dolphin Escape does have a few drawbacks. It may take a couple of cleaning cycles before your pool is completely clean, and the cord is prone to tangling due to the lack of a swivel. I have to say that my Dolphin cleaner (not this model) doesn't have a swivel and I have never had a problem with the cord tangling.
Additionally, the hose length might not be sufficient for some larger pools. However, even with these minor issues, the Dolphin Escape offers a balance of performance and value that makes it a solid choice for pool owners.
---
Best Cordless Robotic Pool Cleaner
The AIPER Seagull Pro Cordless Robotic Pool Cleaner is a reliable and efficient pool cleaner option with advanced technology to make your pool maintenance tasks easier.
Suitable for various pool shapes and sizes.
Pros
Innovative quad-motor system for powerful cleaning
Works on floor, wall, and waterline with 4-wheel drive
60% longer runtime and 50% shorter charging time
Cons
May struggle with certain types of pool drains
Potential for getting stuck on some stairs and steps
Longevity concerns
The AIPER Seagull Pro Cordless Robotic Pool Cleaner is a cutting-edge pool cleaner featuring WavePath Navigation Technology and a quad-motor system that effectively filters 130 gallons of water per minute. This pool vacuum is efficient and user-friendly thanks to its cordless design. Simply drop it in your pool and let it handle the cleaning while you enjoy some leisure time.
Designed to cater to various pool shapes and sizes, this pool cleaner works on both in-ground and above-ground pools up to 3,200 sq. ft. The 4-wheel drive system allows for scalable wall-climbing and effective scrubbing of the waterline. With three cleaning modes, the AIPER Seagull Pro allows you to target specific trouble areas.
One of the standout features of this pool cleaner is its superior battery system. The built-in 9000mAh battery enables cleaning for up to 180 minutes, 60% more than other competitors, and charging time is cut down to just 90 minutes. However, some users have reported issues with the cleaner navigating around certain pool drain types. Additionally, there are concerns about the product's long-term durability.
---
The Rolls Royce of Robotic Pool Cleaners
The Dolphin Nautilus CC Supreme is a reliable and efficient choice for those who prioritize effectiveness and modern features in their pool cleaners.
Wi-Fi control and impressive wall-climbing capabilities.
Pros
Wi-Fi enabled for scheduling and control
Wall climbing and waterline scrubbing abilities
Energy-saving and active scrubbing brush
Cons
Heavier at 40.7 pounds
May struggle with very tight corners
Higher price point
The Dolphin Nautilus CC Supreme Robotic Pool Vacuum Cleaner is designed to make your life easier by effectively cleaning in-ground pools up to 50 feet. The Wi-Fi connectivity allows you to schedule and control your pool cleaning from anywhere, providing extra convenience for you.
Featuring powerful wall climbing capabilities, this cleaner scrubs the floors, walls, and waterlines of your pool, ensuring a thorough clean. The active scrubbing brush is durable and works efficiently to remove debris while being gentle on your pool surface. It's also equipped with energy-saving features that help reduce your overall costs.
In terms of maneuverability, the Dolphin Nautilus CC Supreme has agile steering with Dual Drive strategic movement, but it may face challenges navigating very tight corners. Though heavier, its performance and efficiency far outweigh the inconvenience of its weight.
While the price is higher than others, the quality and convenience of this cleaner make it an excellent investment for pool owners seeking an advanced and reliable solution.
---
Robot Pool Cleaner Buying Guide
When considering a robotic pool cleaner, it's essential to gather information and make an informed decision. Identifying the most suitable product for your needs will ultimately pay off.
Selecting the Right Robotic Pool Cleaner
When choosing the perfect robotic pool cleaner for your needs, there are several factors to consider. By understanding your pool type, size, and specific cleaning requirements, you can select the best cleaner that suits your needs.
First, think about your pool's size and shape. If you have a large or irregularly shaped pool, look for a cleaner with advanced navigation features, such as gyroscope technology or intelligent mapping algorithms.
Pool size and shape: Match the cleaner's capabilities to your pool dimensions and design.
Pool surface material: Ensure the cleaner is suitable for the material of your pool, like concrete, tile or vinyl.
Debris type: Depending on your environment, your cleaner should effectively remove leaves, dirt and algae.
Filter type: Opt for a cleaner with an easily accessible and high-capacity filter.
Energy efficiency: Look for a cleaner that delivers excellent performance with minimal energy consumption.
In addition, consider the cleaner's ease of use and maintenance. A detachable filter basket or cartridge system allows for quick cleaning without the need for tools.
Lastly, don't forget to read customer reviews and ask for recommendations from friends or professionals. This will help you make an informed decision and select the right robotic pool cleaner for your needs.
Benefits of Robotic Pool Cleaners
If you're looking for a hassle-free way to keep your pool clean, a robotic pool cleaner might be just what you need. Here are some of the benefits of using one:
Efficient Cleaning: Robotic pool cleaners are designed to clean your pool quickly and efficiently. They can clean your pool in just a few hours, leaving it sparkling clean and ready for use.
Low Maintenance: Unlike other types of pool cleaners, robotic pool cleaners require very little maintenance. They don't need to be backwashed or have their filters cleaned regularly, which can save you time and money in the long run.
Energy Efficient: Robotic pool cleaners are energy efficient and use less electricity than other types of pool cleaners. They are designed to operate on low voltage, which can save you money on your energy bills.
Easy to Use: Robotic pool cleaners are easy to use and require very little effort on your part. Simply plug them in, place them in your pool, and let them do their job.
Effective Cleaning: Robotic pool cleaners are highly effective at removing dirt, debris, and algae from your pool. They use powerful suction and scrubbing brushes to clean every inch of your pool, leaving it looking like new.
To choose the best robotic pool cleaner, it's important to compare products and evaluate their features in relation to your specific needs. Conduct thorough research and read customer reviews before making a final decision.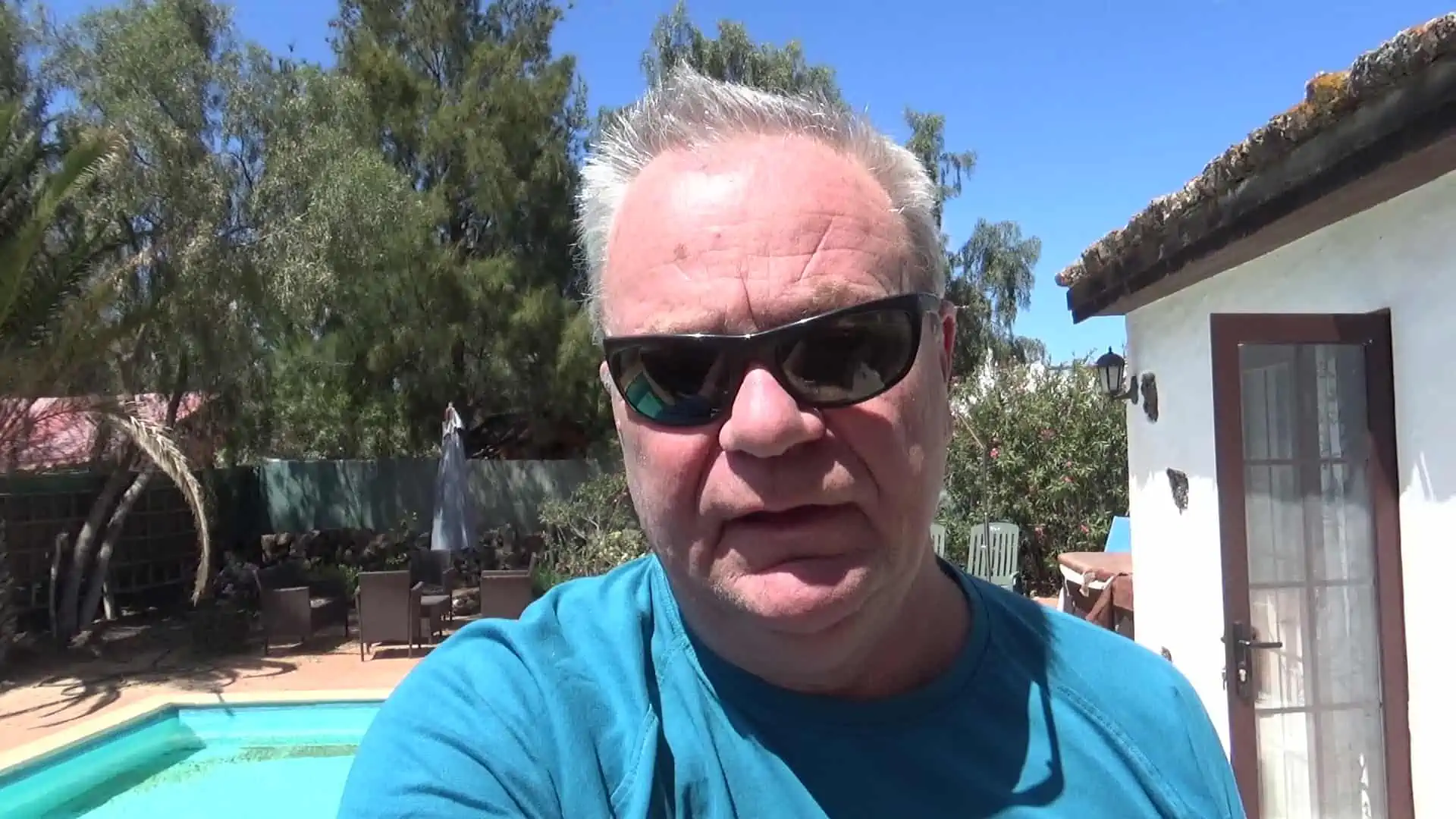 I have had hot tubs for over 20 years and a pool for the last 10 years. I had to learn how to clean, maintain and fix them the hard way. Since then I have helped many friends and neighbors with their pools and now I want to share everything I have learned with you. About Me