Hot tub cover lifters are designed to simplify the process of removing and replacing the cover, ensuring that your hot tub remains clean and ready for use. These handy devices not only protect your investment but also make it more convenient and enjoyable to use your hot tub regularly.
Probably my least favorite part of owning a hot tub, before I bought a lifter, was struggling to remove the cover, particularly as my first hot tub was indoors in a small space. The lifter changed all that.
There are several types of hot tub cover lifters on the market, varying in features, design, and ease of use. Some lifters use a hydraulic system, while others employ a mechanical lifting mechanism. By investing in a high-quality hot tub cover lifter, you can enjoy a seamless experience while prolonging the life of your hot tub cover.
When choosing the best hot tub cover lifter, it's essential to consider factors such as the lift mechanism, ease of installation, compatibility with your hot tub's size and shape, durability, and overall build quality. These features will ensure that you've made the right decision, and your purchase will be a valuable addition to your hot tub setup.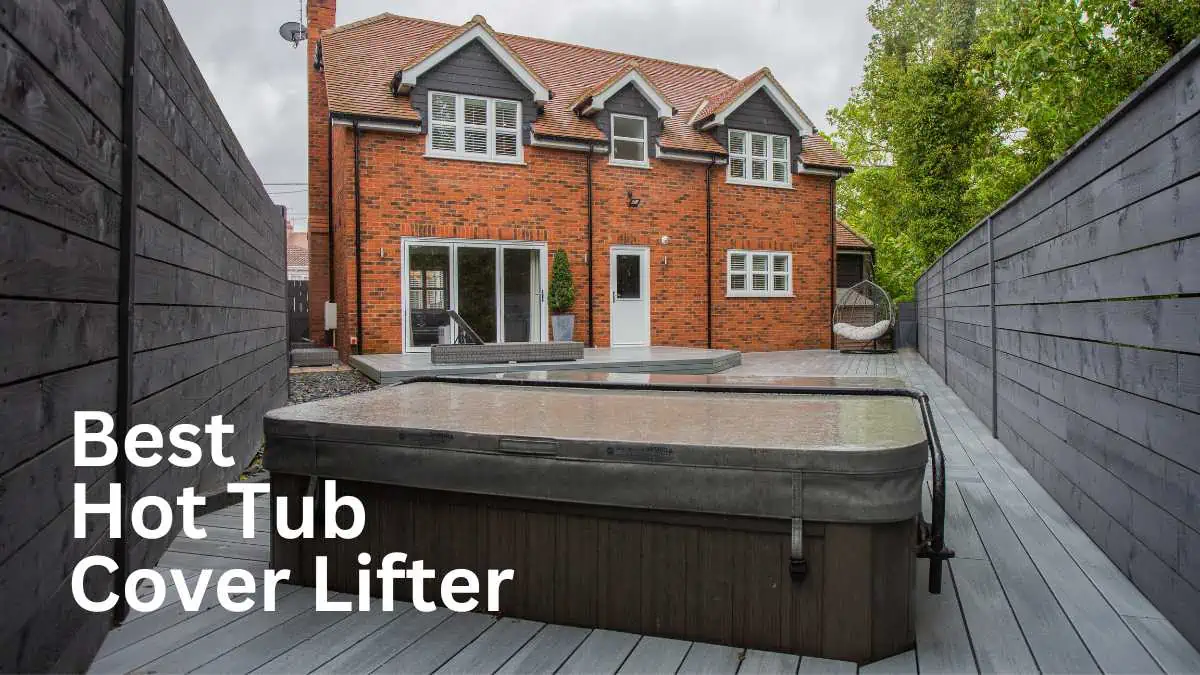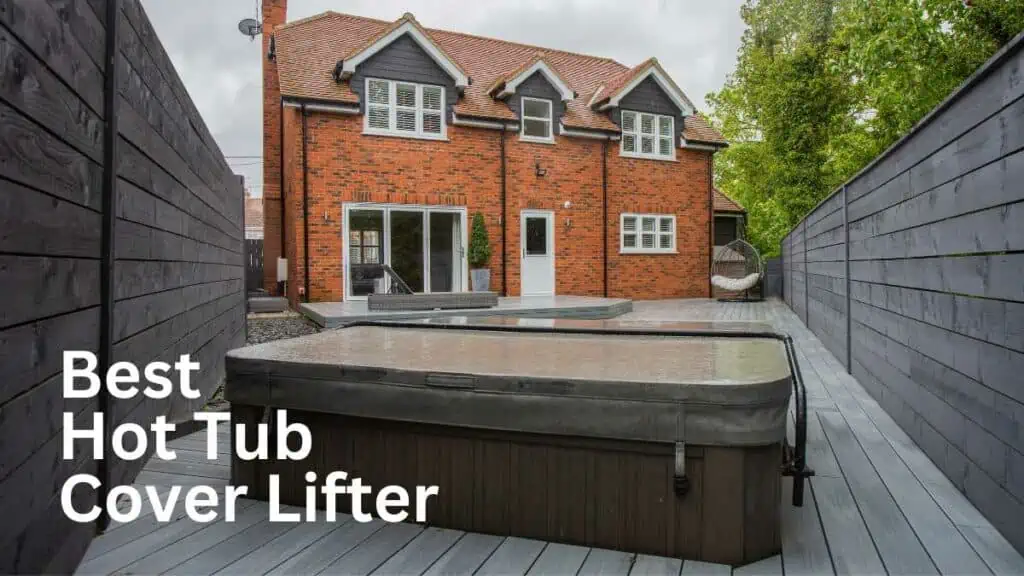 Best Hot Tub Cover Lifters
In this article, we'll explore some of the best hot tub cover lifts on the market and help you determine which one is the best fit for your needs. They range in price from $135 to $230, so not expensive for the convenience they provide.
We've done the research, so you can confidently choose the perfect hot tub cover lifter for your specific situation. Let's dive in.
---
The Cover Guy Premium Hydraulic Hot Tub Cover Lifter is designed to make your hot tub experience more enjoyable by simplifying the cover removal process. With its advanced hydraulic technology, you can easily lift and remove your hot tub cover without straining your back and arms.
Crafted with high-quality materials, this cover lifter is built to last. Its robust design ensures stability and longevity, providing you with reliable performance for years to come. Additionally, its space-saving design requires minimal clearance, allowing you to fully enjoy the area around your hot tub. The lifter is adjustable to fit various hot tub sizes, shapes, and cover thicknesses, making it suitable for a wide range of hot tub models.
However, some customers reported delivery issues and a lack of communication from the seller. The installation process could be challenging for some, as the included instructions may be difficult to understand. It may be helpful to search for an online video tutorial before attempting the installation. Also, ensure that the screws are stainless steel or replace them with stainless ones, as the non-stainless screws provided may rust over time.
---
The Cover Rock-It hot tub cover lifter boasts easy installation with its under-spa plates held securely in place by the weight of the spa. Measuring 8.75 x 8.75 inches, these plates require as little as 18 inches of clearance, making them suitable for a range of hot tub settings.
When it comes to durability, the zinc-plated and powder-coated finish ensures your cover lifter will stand the test of time. The Cover Rock-It is designed to keep your hot tub cover neatly stored on the spa's side when not in use. This not only provides a clear, unobstructed view but also allows for easy access when needed.
However, there are some potential drawbacks to consider. Depending on your spa's setup, you may need to empty and lift it for installation. Additionally, the cover lifter may not be ideal for use on uneven surfaces like crushed granite. Some users may find the QR code instructions less user-friendly than traditional written directions.
---
The REGMICS Spa Cover Lifts – Pivot Top Mount offers a convenient way to remove and store your hot tub cover without hassle. Its mount design works with all spas and hot tubs, making installation a breeze. Just a few minutes will see this cover lift removal system up and running, equipped with reinforced brackets and a 3-hook towel rack that fits most spas and hot tubs.
Despite being advertised as having 100% aluminum brackets, some customers have reported they are actually made from plastic. However, the overall construction remains sturdy with a powder-coated aluminum frame. Additionally, this cover lift system is incompatible with round hot tubs and spas, so make sure to verify your hot tub's dimensions before purchasing.
Safety and convenience are at the core of the REGMICS Spa Cover Lifts system. Its lift and lock feature allows for quick and effortless enjoyment of your hot tub. The full-length center bar and padded hand grip make lifting and closing the spa cover easy, giving you more time to relax and unwind. However, do note that it requires 10-15 inches of clearance behind the spa and 5 inches on each side.
---
The Cover Caddy Cover Valet Hot Tub Spa Cover Lifter is designed to work with all spa types, thanks to its innovative under mount-cabinet design. This feature eliminates the need to attach any parts to your spa cabinet, ensuring a clean and seamless look.
One of the standout features of this cover lifter is the gas spring assistance, which makes it easy for anyone to remove the spa cover. This effortlessness is perfect for those who use their hot tub frequently, as it eliminates the struggle of wrestling with a heavy, cumbersome cover.
Installation of the Cover Caddy is a breeze – you'll have it up and running in just a few minutes. However, one downside is that you might need to drain your hot tub before installing the lifter, which could be an inconvenience.
While this cover lifter is designed to function efficiently with most spas, its compatibility with triangular spas may be limited. Additionally, some users have mentioned concerns about the construction's durability, although the manufacturer offers a five-year warranty to help mitigate this issue.
---
The Puri Tech Cover Lift offers an easy-to-use design that can make your hot tub experience more enjoyable. Made from black powder-coated aluminum tubing and stainless steel hardware, this cover lifter not only looks sleek but also reduces the chances of rusting over time.
The installation process is generally easy, despite some users mentioning that the instructions lacked clarity. Once installed, the cover lifter can effortlessly fold your spa cover over a full-length center bar. The padded handle allows you to quickly slide the cover off and onto the back of the spa, making it a breeze to use.
One unique feature of this spa cover lifter is the inclusion of a three-hook towel holder. This convenient addition provides a handy place to store towels while enjoying your hot tub. However, it's important to note that this cover lifter requires 18 inches of clearance behind the spa and 5 inches on each side. Unfortunately, it does not fit round, hexagonal, or octagonal spas, so if your spa falls into one of these categories, you'll need to consider alternative options.
---
Buying Guide
When looking for the best hot tub cover lifter, there are several factors you should consider to ensure you choose a reliable and efficient product. In this buying guide, we provide you with information on important features and aspects to help you make an informed decision.
Easy Installation
An ideal hot tub cover lifter should have a straightforward and hassle-free installation process. Look for lifters that come with comprehensive instructions, diagrams, or even videos to guide you through the installation.
Some models require minimal tools or no tools at all, making it easier for you to set it up without needing professional help.
Material and Durability
The durability of a cover lifter is crucial. Opt for products made from high-quality materials that can withstand the elements and resist rust or corrosion, such as stainless steel or aluminum.
These materials will not only ensure long-lasting performance but also contribute to the overall aesthetic appeal of your hot tub area.
Type of Lifter Mechanism
There are various types of lifter mechanisms, each with its own advantages and drawbacks. Some popular types include:
Manual, which requires you to physically lift the cover
Hydraulic, using hydraulic arms to assist you
Pneumatic, utilizing gas springs for easy lifting
Consider the level of assistance you need when lifting your hot tub cover and choose accordingly, keeping in mind that some mechanisms might cost more than others.
Compatibility with Hot Tub Size and Shape
Before purchasing a hot tub cover lifter, ensure it is compatible with the dimensions and shape of your hot tub, whether it's square, rectangular, or round. Some lifters are adjustable and can fit various hot tub sizes, while others are designed for specific shapes and dimensions.
Storage and Space Requirements
Hot tub cover lifters come in different designs, which determine how the cover is stored when removed from the hot tub. Some models fold the cover in half, while others slide it to one side or rotate it.
When choosing a lifter, think about the available space around your hot tub and select a design that will allow for easy and convenient access without obstructing pathways or taking up too much space.
By considering these factors and focusing on your specific needs and preferences, you can confidently choose the best hot tub cover lifter for your home. Just keep in mind to always prioritize quality and functionality over aesthetics alone.